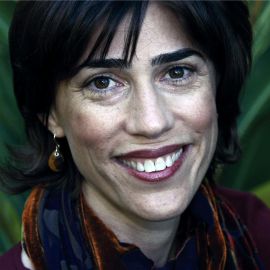 Manette Ansay grew up in Wisconsin among 67 cousins and over 200 second cousins. She is a New York Times best-selling, award-winning author of six novels, including: Vinegar Hill, an Oprah Book Club selection; Midnight Champagne, a finalist for the National Book Critics Circle Award; Sister; River Angel; and Blue Water, a Target Book Club Selection, as well as a short story collection, Read This and Tell Me What It Says, and a memoir, Limbo. Her stories and poems have appeared in many publications, including The North American Review, Story, and The Pushcart Prize Anthology. Her latest novel is Good Things I Wish You (HarperCollins). Ansay's awards include a National Endowment for the Arts Grant, a Pushcart Prize, the Nelson Algren Prize, a Friends of American Writers Prize, and two Great Lakes Book Awards.
Ansay is a sought after keynote speaker at universities, literary festivals, fundraising events, book clubs, women's groups, and other organizations around the country. She speaks about the writing life, how she became a writer, and the myriad issues in her books.
Ansay started writing as a New Year's resolution on January 1, 1988. After developing a muscle disorder, it was necessary for her to find a career in which she could spend time sitting down. Though she's since recovered, she's been writing ever since.
Ansay lives with her daughter in Florida, where she teaches in the MFA program at the University of Miami. She received her MFA from Cornell University. She has taught at Vanderbilt University, Marquette University, and the University of the South.
Good Things I Wish You (and a Few Things I Don't): The Ups and Downs of the Writing Career
Is That Supposed to Be Me? (And Other Reactions from Family Members and Friends)
Limbo: How a Life-Altering Illness Lead To A Lifetime of Writing
Fiction: The Best Way to Tell the Truth
Reinventing the Historical Novel
Literary Scrapbooking: Preserving Written Memories
Click Here to register and get pricing on booking A. Manette Ansay for your next event!
Get notified of new talks and events.
Follow
Related Speakers View all
---
Mel H. Abraham

He has a riveting presence, created by his absolute ...

Milt Abel

Milt Abel is a corporate-clean stand-up comedian tha...

Mike Abrashoff

Former Commander of USS Benfold and Author of "It's ...

J.J. Abrams

Director, Producer, Writer, Author; Known for His Wo...

Melvin Adams

Former Harlem Globetrotter with a Passion for Reachi...

Kirk Acevedo

Actor Best Known for His Roles on "Dexter," "Band of...

Jose Antonio Abreu

Founder of El Sistema, Which Helps Venezuelan Childr...

Carol Adelman

Carol Adelman is a senior fellow and director of Hud...

Newton Aduaka

Newton Aduaka's award-winning Ezra, told through the...

Janus Adams

Award-Winning Journalist

Jenoyne Adams

African-American Novelist.

Khandi Alexander

Khandi Alexander (born September 4, 1957) is an Amer...

Shaun Alexander

NFL Great

Laila Ali

Undefeated 4 Time World Champion Boxer 24-0 with 21 ...

Alan Alda

Actor, Writer, Science Advocate, and Director

Adewale Akinnuoye-Agbaje

Fashion Model & Actor Known for "Lost," "Oz" & "Suic...

Jane Alexander

Actress and Former Director of the National Endowmen...

Bruce Aitken

Bruce Aitken was born in Invercargill New Zealand wh...

Gary Aldrich

On Independence Day, 1996, former FBI Agent Gary Ald...

Marilyn Albert

Dr. Marilyn Albert received her PD degree in Physiol...
More like A.