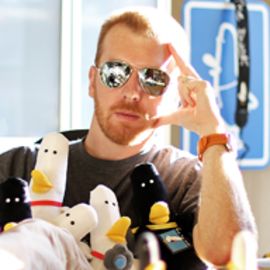 The What the Duck comic strip has been called, "hands-down, my absolute favorite cartoon on the planet. Period. It is the one strip that makes me laugh out loud every time." by Scott Kelby, Award-winning Author and Editor-in-chief of Photoshop User magazine. Watch everyone's favorite photo-centric comic strip take the stage, as Aaron Johnson describes his serendipitous journey from photo hobbyist to syndicated cartoonist and published author. Get ready to sit back and laugh as Johnson entertains audiences with five-plus years of fan favorite strips, the inspiration behind those comics, and insight as to why the photography business is ripe for humor. Aaron covers the all too familiar issues with the industry and explains why sometimes the best thing we can do is shake our heads and laugh. It's one-part stand-up, one-part presentation, and all parts LOL.
Profile - Cartoonist, Funny Man, Photo Nut, Photoshop Addict Aaron Johnson is best known as the creator of the comic strip, What the Duck, the photo-centric cartoon that made it's debut in 2006. The strip has been showcased in cyberspace, magazines, newspapers, and books in 193 countries. Graduating from Columbia College Chicago in 1998 with a B.A. in film, Johnson has worked for more than 16 years in the animation and graphic design field. When Johnson isnt drawing What the Duck or playing jazz bass, hes a computer-based animator for Mad Max Designs in Milwaukee. Raised near Green Bay, Wisconsin, Johnson currently lives in Oak Creek, Wisconsin, with wife, Patty, and two young children, Jonas and Clare.
Testimonials:
"It was so great having you at the Texas Professional Photographers Convention. People were still laughing from your program the next day! We all agree you hit a home run!" - Steve Kozak Grapevine Cr. Photog.. CPP
"I wasn't sure how well the absolutely brilliant What The Duck cartoon strip would translate into a live presentation, but when Aaron did WTD LIVE at our state convention, there was never a dull moment. With just the right mix of old strips, animations, and storytelling, WTD LIVE kept the room engaged and laughing." - Brad Barton
"Saw Aaron Johnson at a conference recently, and let me say, it was absolutely wonderful! As a photographer myself, it was one of the highlights of the conference. Words to describe it? Hilarious! Gut-busting! Fun! I loved it!" - Michael J. Plumeyer
Click Here to register and get pricing on booking Aaron Johnson for your next event!
Links
---
Books
---
Get notified of new talks and events.
Follow
Related Speakers View all
---
Freeman LaFleur

Tony Stark of QR Codes

Adam Leotta

You don't need to be famous to be a great speaker

Rex Havens

Comedian, Keynote Speaker and Author

Mike Vardy

Productivity and Time Management Specialist | Writer...

Amy Magyar (Coach)

The Benefits of a Coach Without the Annoying Whistle.

Eric Gnezda

Humorist, songwriter and inspirational speaker. Crea...

Hypnotist The Incredible BORIS

Keynote Speaker and award-winning Motivational Hypno...

Liz Nead

Life Coach and Inspirational Speaker

Nick Mullis

Everyone has a story to tell.

Karim Rashid

Renowned Cultural & Industrial Designer, Creativity ...

Adora Svitak

Writer, Speaker, Education Advocate, and Child Prodigy

Stephen Sapato

the most famous unfamous speaker in America

Anthony Anderson

Executive Producer and Star of ABC's New Comedy "bla...

Lisa Wessan

Creating a space for Grace...

Rhonda Scharf

Not just a keynote, but an EXPERIENCE! Get your com...

John Ogilvie

Accountant, Financial Consultant, International Busi...

Leon Quan (Philosophy of Brilliance)

Philosopher-Writer-Cultural Analyst

Nicka Smith

genealogy. photography. and all the stuff in between.

ScottKennedy

media, technology and art

Linda Villatore

Award Winning Trainer
More like Aaron