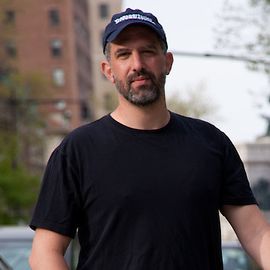 Aaron Naparstek is the founder and former editor-in-chief of Streetsblog. Based in Brooklyn, New York, Naparstek's journalism, advocacy and community organizing work has been instrumental in growing the bicycle network, removing motor vehicles from parks, and developing new public plazas, car-free streets and life-saving traffic-calming measures across all five boroughs. Naparstek is the author of "Honku: The Zen Antidote for Road Rage" (Villard, 2003), a book of humorous haiku poetry inspired by the endless motorist sociopathy observed from his apartment window. Prior to launching Streetsblog, Naparstek worked as an interactive media producer, pioneering some of the Web's first music web sites, online communities, live webcasts and social networking services. Naparstek is currently in Cambridge with his wife and two young sons where he is enjoying a Loeb Fellowship at Harvard University's Graduate School of Design. He has a master's degree from Columbia University's Graduate School of Journalism and a bachelor's degree from Washington University in St. Louis, Missouri. Naparstek is a co-founder of the Park Slope Neighbors community group and the Grand Army Plaza Coalition.
Videos
---
Related Speakers View all
---
Sheryl WuDunn

Pulitzer Prize-Winning Journalist; Co-author of Half...

Raj Patel

Controversial Author, Journalist, Professor and Food...

Alexandra Cousteau

Environmental Advocate & Water Policy Expert

Nicholas Kristof

Pulitzer Prize-Winning New York Times Columnist

Naomi Klein

Award-Winning Journalist, Columnist, and the #1 Inte...

Bill Drayton

Social Entrepreneur, Founder & C.E.O of Ashoka. Lead...

Allyson Kapin

Founder of Women Who Tech; Founder of web agency Rad...

Achenyo Idachaba

Head of MitiMeth, A Nigeria-Based Environmentally Aw...

Annie Leonard

American Proponent of Sustainability and a Critic o...

Mark Tercek

President and CEO, The Nature Conservancy

Gary White

Executive Director & Co-Founder of Water.org with Ma...

Emmanuelle Chriqui

Actress Known for "Entourage;" Social Advocate for C...

Alicia Silverstone

Actress & Animal Rights Activist

Annabelle Gurwitch

Actress & Humorist

David Goodman

Investigative Journalist / Author

Larry Brilliant

Pioneering Physician and Leading Public Health Exper...

Ted Turner

Media Mogul, Philanthropist

Van Jones

CNN Contributor; Best-Selling Author; Human Rights, ...

Dr. Jane Goodall

Internationally Renowned Primatologist, Founder of t...

Fabien Cousteau

Deep Ocean Explorer and Environmentally-Conscious Bu...
More like Aaron