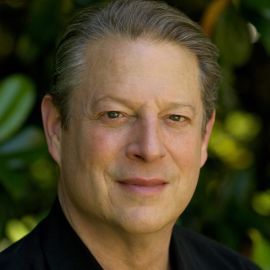 Al Gore
45th Vice President of the United States, Nobel Peace Laureate, Chairman of the Generation Investment Management, Chairman of The Climate Reality Project, Bestselling Author
Former Vice President Al Gore is co-founder and chairman of Generation Investment Management, a partnership that is focused on a new approach to sustainable investing. He is also co-founder and chairman of Current TV, an Emmy Awardwinning, independent cable and satellite television news and information network based on viewer-created content and citizen journalism. In addition, Gore is a senior partner with the venture capital rm Kleiner Perkins Caueld & Byers, a member of the board of directors of Apple and senior adviser to Google.
Gore spends the majority of his time as chairman of The Climate Reality Project, a non-profit focused on solutions to the climate crisis.
Gore was elected to the U.S. House of Representatives in 1976, 1978, 1980 and 1982 and the U.S. Senate in 1984 and 1990. He was inaugurated as the forty-fifth Vice President of the United States on January 20, 1993, and served eight years. During the Administration, Gore was a central member of President Clintons economic team. He served as President of the Senate, a Cabinet member, a member of the National Security Council and as the leader of a wide range of Administration initiatives.
He is the author of the bestsellers Earth in the Balance, An Inconvenient Truth, The Assault on Reason, and Our Choice: A Plan to Solve the Climate Crisis. He is the subject of an Oscar-winning documentary and is the co-recipient, with the Intergovernmental Panel on Climate Change, of the 2007 Nobel Peace Prize for informing the world of the dangers posed by climate change.
Videos
---
Related Speakers View all
---
Bill Gates

Co-Founder of Microsoft; Co-chair of the Bill & Meli...

Bill Clinton

Former President of the United States (1992 - 2000)

Eric Schmidt

Executive Chairman and Former Chief Executive Office...

Bill Nye

AKA Bill Nye the Science Guy; Science Communicator, ...

Katie Couric

Award-winning Journalist, Best-selling Author, & Co-...

Barack Obama

44th President of the United States

Melinda French Gates

Melinda French Gates is co-chair of the Bill & Melin...

Sheryl Sandberg

COO of Facebook

Marc Benioff

Founder, Chairman, and CEO, Salesforce.com

Parag Khanna

The World's Leading Geo-Strategist; Author of Second...

Sir Richard Branson

Founder of Virgin Group

Robert Redford

Actor, Film Director, Producer, Businessman, Environ...

Peter Diamandis

Chairman and CEO, X PRIZE Foundation; Author

Jeremy Rifkin

Leading Global Technologist, Futurist and Authority ...

Elon Musk

CEO and Product Architect of Tesla Motors; CEO/CTO o...

Richard Florida

Renowned Economist and Author, The Rise of the Creat...

Bill McKibben

Author & Environmental Activist

Daniel Pink

#1 New York Times Bestselling Author, To Sell is Hum...

Steve Wozniak

Co-Founder, Apple Computer, Inc.

Seth Godin

New York Times Bestselling Author of "Purple Cow", "...
More like Al