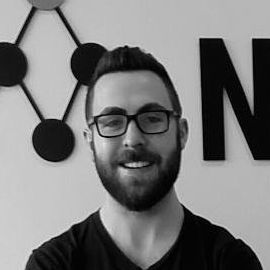 I am a software engineer specializing in artificial intelligence (AI) and machine learning. Why did I become an engineer? Because engineers advance technology and technology advances civilization. Engineers are uniquely positioned to mold the human experience.
My background is in mechanical engineering, specifically spacecraft engineering and robotics. Working on a lunar rover team in graduate school I became engrossed in AI and decided to pursue it as a career. I am now a researcher with Numenta, developing algorithms for neocortex-inspired machine intelligence.
My studies continue in pursuit of a Master of Engineering Management degree with Duke University -- with their professional masters distance program, and a concentration in Technology Innovation. I'm always building my cognitive toolkit by digesting textbooks/academic papers and doing side projects. Currently this includes neuroscience, fullstack software development, prototyping/hacking with Arduino and Raspberry Pi, and philosophy of physics.
Click Here to register and get pricing on booking Alexander Lavin for your next event!
Get notified of new talks and events.
Follow
Related Speakers View all
---
Mel H. Abraham

He has a riveting presence, created by his absolute ...

Milt Abel

Milt Abel is a corporate-clean stand-up comedian tha...

Mike Abrashoff

Former Commander of USS Benfold and Author of "It's ...

J.J. Abrams

Director, Producer, Writer, Author; Known for His Wo...

Melvin Adams

Former Harlem Globetrotter with a Passion for Reachi...

Kirk Acevedo

Actor Best Known for His Roles on "Dexter," "Band of...

Jose Antonio Abreu

Founder of El Sistema, Which Helps Venezuelan Childr...

Carol Adelman

Carol Adelman is a senior fellow and director of Hud...

Newton Aduaka

Newton Aduaka's award-winning Ezra, told through the...

Janus Adams

Award-Winning Journalist

Jenoyne Adams

African-American Novelist.

Khandi Alexander

Khandi Alexander (born September 4, 1957) is an Amer...

Shaun Alexander

NFL Great

Laila Ali

Undefeated 4 Time World Champion Boxer 24-0 with 21 ...

Alan Alda

Actor, Writer, Science Advocate, and Director

Adewale Akinnuoye-Agbaje

Fashion Model & Actor Known for "Lost," "Oz" & "Suic...

Jane Alexander

Actress and Former Director of the National Endowmen...

Bruce Aitken

Bruce Aitken was born in Invercargill New Zealand wh...

Gary Aldrich

On Independence Day, 1996, former FBI Agent Gary Ald...

Marilyn Albert

Dr. Marilyn Albert received her PD degree in Physiol...
More like Alexander