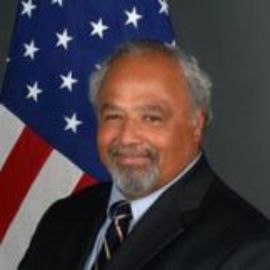 Ambassador Eric Goosby
US Global AIDS Coordinator
Ambassador Eric Goosby serves as the United States Global AIDS Coordinator, leading all U.S. Government international HIV/AIDS efforts. In this role, Ambassador Goosby oversees implementation of the U.S. President's Emergency Plan for AIDS Relief (PEPFAR), as well as U.S. Government engagement with the Global Fund to Fight AIDS, Tuberculosis and Malaria. Ambassador Goosby served as CEO and Chief Medical Officer of Pangaea Global AIDS Foundation from 2001 to June 2009. At present, he is also Professor of Clinical Medicine at the University of California, San Francisco. Ambassador Goosby has played a key role in the development and implementation of HIV/AIDS national treatment scale-up plans in South Africa, Rwanda, China, and Ukraine. He focuses his expertise on the scale-up of sustainable HIV/AIDS treatment capacity, including the delivery of HIV antiretroviral drugs, within existing healthcare systems. Ambassador Goosby has extensive international experience in the development of treatment guidelines for use of antiretroviral therapies, clinical mentoring and training of health professionals, and the design and implementation of local models of care for HIV/AIDS. He has worked closely with international partners on the development of successful HIV/AIDS treatment and treatment-based prevention strategies for high-risk populations. Ambassador Goosby has over 25 years of experience with HIV/AIDS, ranging from his early years treating patients at San Francisco General Hospital when AIDS first emerged, to engagement at the highest level of policy leadership. As the first Director of the Ryan White Care Act at the U.S. Department of Health and Human Services, Ambassador Goosby helped develop HIV/AIDS delivery systems in the United States. During the Clinton Administration, he served as Deputy Director of the White House National AIDS Policy Office and Director of the Office of HIV/AIDS Policy of the U.S. Department of Health and Human Services. Ambassador Goosby has longstanding working relationships with leading multilateral organizations, including UNAIDS, the Global Fund and the World Health Organization.
Click Here to register and get pricing on booking Ambassador Eric Goosby for your next event!
Get notified of new talks and events.
Follow
Related Speakers View all
---
Mel H. Abraham

He has a riveting presence, created by his absolute ...

Milt Abel

Milt Abel is a corporate-clean stand-up comedian tha...

Mike Abrashoff

Former Commander of USS Benfold and Author of "It's ...

J.J. Abrams

Director, Producer, Writer, Author; Known for His Wo...

Melvin Adams

Former Harlem Globetrotter with a Passion for Reachi...

Kirk Acevedo

Actor Best Known for His Roles on "Dexter," "Band of...

Jose Antonio Abreu

Founder of El Sistema, Which Helps Venezuelan Childr...

Carol Adelman

Carol Adelman is a senior fellow and director of Hud...

Newton Aduaka

Newton Aduaka's award-winning Ezra, told through the...

Janus Adams

Award-Winning Journalist

Jenoyne Adams

African-American Novelist.

Khandi Alexander

Khandi Alexander (born September 4, 1957) is an Amer...

Shaun Alexander

NFL Great

Laila Ali

Undefeated 4 Time World Champion Boxer 24-0 with 21 ...

Alan Alda

Actor, Writer, Science Advocate, and Director

Adewale Akinnuoye-Agbaje

Fashion Model & Actor Known for "Lost," "Oz" & "Suic...

Jane Alexander

Actress and Former Director of the National Endowmen...

Bruce Aitken

Bruce Aitken was born in Invercargill New Zealand wh...

Gary Aldrich

On Independence Day, 1996, former FBI Agent Gary Ald...

Marilyn Albert

Dr. Marilyn Albert received her PD degree in Physiol...
More like Ambassador