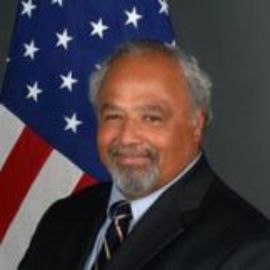 Ambassador Eric Goosby
US Global AIDS Coordinator
Ambassador Eric Goosby serves as the United States Global AIDS Coordinator, leading all U.S. Government international HIV/AIDS efforts. In this role, Ambassador Goosby oversees implementation of the U.S. President's Emergency Plan for AIDS Relief (PEPFAR), as well as U.S. Government engagement with the Global Fund to Fight AIDS, Tuberculosis and Malaria. Ambassador Goosby served as CEO and Chief Medical Officer of Pangaea Global AIDS Foundation from 2001 to June 2009. At present, he is also Professor of Clinical Medicine at the University of California, San Francisco. Ambassador Goosby has played a key role in the development and implementation of HIV/AIDS national treatment scale-up plans in South Africa, Rwanda, China, and Ukraine. He focuses his expertise on the scale-up of sustainable HIV/AIDS treatment capacity, including the delivery of HIV antiretroviral drugs, within existing healthcare systems. Ambassador Goosby has extensive international experience in the development of treatment guidelines for use of antiretroviral therapies, clinical mentoring and training of health professionals, and the design and implementation of local models of care for HIV/AIDS. He has worked closely with international partners on the development of successful HIV/AIDS treatment and treatment-based prevention strategies for high-risk populations. Ambassador Goosby has over 25 years of experience with HIV/AIDS, ranging from his early years treating patients at San Francisco General Hospital when AIDS first emerged, to engagement at the highest level of policy leadership. As the first Director of the Ryan White Care Act at the U.S. Department of Health and Human Services, Ambassador Goosby helped develop HIV/AIDS delivery systems in the United States. During the Clinton Administration, he served as Deputy Director of the White House National AIDS Policy Office and Director of the Office of HIV/AIDS Policy of the U.S. Department of Health and Human Services. Ambassador Goosby has longstanding working relationships with leading multilateral organizations, including UNAIDS, the Global Fund and the World Health Organization.
Click Here to register and get pricing on booking Ambassador Eric Goosby for your next event!
Get notified of new talks and events.
Follow
Related Speakers View all
---
Rebecca Nagy
Rebel Brown

Market Strategist, Agent of Change, Speaker, Author....

Redia Anderson

Chief Diversity & Inclusion Office, BP-Americas

Renee Lee Rosenberg

An engaging motivator who encourages forward progress

Renie Cavallari

Renie Cavallari is a renowned Speaker, Trainer, Keyn...

Rich Hart

LIFT MORE !!!

Rich Lucia

Author, Speaker, Consultant

Richard Burleson

Vice President of Engineering Firm Neel-Schaffer

Richard Fabozzi

Creates highly interactive and value-driven "Experie...

Richard Schenkar
Rick Chromey

Inspirational Edutainer. Leadership Imagineer. Cultu...

Rick Frishman

Founder of Planned Television Arts

Rick Kiernan
Rick Ott

Rick Ott speaks about making money and building weal...

RM Reed
Robert Collinsworth
Robert Douglas
Robert Gedaliah

President of "Speaking for Results"

Robert Jerus
Robert Martin

Gavin de Becker & Associates protects people who are...
More like Ambassador