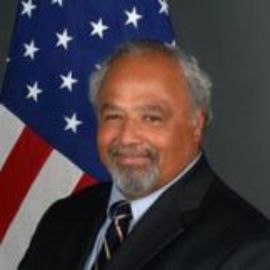 Ambassador Eric Goosby
US Global AIDS Coordinator
Ambassador Eric Goosby serves as the United States Global AIDS Coordinator, leading all U.S. Government international HIV/AIDS efforts. In this role, Ambassador Goosby oversees implementation of the U.S. President's Emergency Plan for AIDS Relief (PEPFAR), as well as U.S. Government engagement with the Global Fund to Fight AIDS, Tuberculosis and Malaria. Ambassador Goosby served as CEO and Chief Medical Officer of Pangaea Global AIDS Foundation from 2001 to June 2009. At present, he is also Professor of Clinical Medicine at the University of California, San Francisco. Ambassador Goosby has played a key role in the development and implementation of HIV/AIDS national treatment scale-up plans in South Africa, Rwanda, China, and Ukraine. He focuses his expertise on the scale-up of sustainable HIV/AIDS treatment capacity, including the delivery of HIV antiretroviral drugs, within existing healthcare systems. Ambassador Goosby has extensive international experience in the development of treatment guidelines for use of antiretroviral therapies, clinical mentoring and training of health professionals, and the design and implementation of local models of care for HIV/AIDS. He has worked closely with international partners on the development of successful HIV/AIDS treatment and treatment-based prevention strategies for high-risk populations. Ambassador Goosby has over 25 years of experience with HIV/AIDS, ranging from his early years treating patients at San Francisco General Hospital when AIDS first emerged, to engagement at the highest level of policy leadership. As the first Director of the Ryan White Care Act at the U.S. Department of Health and Human Services, Ambassador Goosby helped develop HIV/AIDS delivery systems in the United States. During the Clinton Administration, he served as Deputy Director of the White House National AIDS Policy Office and Director of the Office of HIV/AIDS Policy of the U.S. Department of Health and Human Services. Ambassador Goosby has longstanding working relationships with leading multilateral organizations, including UNAIDS, the Global Fund and the World Health Organization.
Click Here to register and get pricing on booking Ambassador Eric Goosby for your next event!
Get notified of new talks and events.
Follow
Related Speakers View all
---
Po Bronson

Successful novelist, prominent writer of narrative n...

Campbell Brown

Award Winning Journalist

Todd Bischoff
Roger Cressey

NBC Counter-terrorism Analyst & Former Presidential ...

David Ewing Duncan

Internationally Best-Selling Author & Journalist

Sir Harold Evans

Legendary Publisher & Best-Selling Author

John Forte

Singer, Songwriter & Producer

Michael Fuchs

Former Chairman/CEO of Home Box Office (HBO)

Marc Ginsberg

Former U.S. Ambassador to Morocco & Fox News corresp...

Larry Julian

Best-Selling Author, Leadership Coach & Business Expert

Michelle Malkin

Award Winning Conservative Columnist, Best-Selling A...

Meghan McCain

Political Columnist, Author & Award-Winning Blogger

Byron Pitts

CBS News Chief National Correspondent, Contributing ...

J. Zink
William K. Reilly

World Wildlife Fund Chairman Emeritus & Co-Chair, Na...

Winston Scott

Former NASA Astronaut

Tiffany Shlain

Filmmaker & Founder of the Webby Awards

Rebecca Skloot

Award Winning Science Writer, Author "The Immortal L...

Sir Howard Stringer

President, Chairman & CEO of Sony Corporation

Jonathan Tisch

Chairman & CEO of Loews Hotels, Leading Authority on...
More like Ambassador