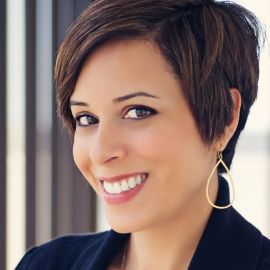 Ana Caban
International Fitness Presenter, and Certified Speaker, Trainer & Coach on The John Maxwell Team.
"Good Life Guru" Ana Cabán is an International Fitness Presenter, and Certified Speaker, Trainer and Coach with the John Maxwell Team. For nearly 2 decades, she has inspired millions of people to move, and improve, their bodies with her award-winning Pilates DVDs. She is now on a journey of helping people recognize, and tap into, their true potential, so that they can live the lives that they have only dreamed of, yet truly deserve. Living "La Buena Life."
Be inspired, and moved (literally) by this charismatic, energetic Latina, who finds a way to balance it all, as a single mom, whose biggest goal in life is to add value to others.
Click Here to register and get pricing on booking Ana Caban for your next event!
Videos
---
Speech Topics
---
Why Manage, When You Can Lead?
There's a fine line between managing and leading. Sure systems are great, but leadership is so much more! Leadership is influence! Ana will reveal the skills necessary to become a great leader. Employ them and watch your business, and your life improve, in ways you couldn't imagine!
Communication Secrets
Learn the secret to communicating and watch your business and relationships soar! Ana will expose the 5 Principles and 5 Practices to make every communication an opportunity for a powerful connection. Learn the skill of connecting and apply it to your personal, professional, and family relationships, starting now!
Living on Purpose
We all have a longing to be significant, to make a contribution, to be a part of something noble and purposeful. And contrary to popular belief, we can! Surprisingly, there's no need for a novel idea, a particular age, or tremendous resources. What is takes to live a life of significance, and to create a lasting legacy, is to live intentionally. And, the point is to begin. Let Ana give your group the nudge that they need to take the first step.
"The journey of 1000 miles begins with one step." –Lao Tzu
Get notified of new talks and events.
Follow
Related Speakers View all
---
Rebel Brown

Market Strategist, Agent of Change, Speaker, Author....

Renie Cavallari

Renie Cavallari is a renowned Speaker, Trainer, Keyn...

Rich Hart

LIFT MORE !!!

Rich Lucia

Author, Speaker, Consultant

Richard Burleson

Vice President of Engineering Firm Neel-Schaffer

Richard Fabozzi

Creates highly interactive and value-driven "Experie...

Rick Chromey

Inspirational Edutainer. Leadership Imagineer. Cultu...

Rick Frishman

Founder of Planned Television Arts

Rick Kiernan
Rick Ott

Rick Ott speaks about making money and building weal...

RM Reed
Robert Collinsworth
Robert Douglas
Robert Gedaliah

President of "Speaking for Results"

Robert Jerus
Robert Martin

Gavin de Becker & Associates protects people who are...

Robert Perez
Robin Barnhart
Rodney C. Matthews
Roger Reece

Keynotes, training & coaching - people skills, confl...
More like Ana