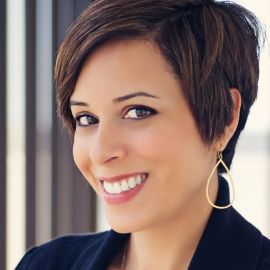 Ana Caban
International Fitness Presenter, and Certified Speaker, Trainer & Coach on The John Maxwell Team.
"Good Life Guru" Ana Cabán is an International Fitness Presenter, and Certified Speaker, Trainer and Coach with the John Maxwell Team. For nearly 2 decades, she has inspired millions of people to move, and improve, their bodies with her award-winning Pilates DVDs. She is now on a journey of helping people recognize, and tap into, their true potential, so that they can live the lives that they have only dreamed of, yet truly deserve. Living "La Buena Life."
Be inspired, and moved (literally) by this charismatic, energetic Latina, who finds a way to balance it all, as a single mom, whose biggest goal in life is to add value to others.
Click Here to register and get pricing on booking Ana Caban for your next event!
Videos
---
Speech Topics
---
Why Manage, When You Can Lead?
There's a fine line between managing and leading. Sure systems are great, but leadership is so much more! Leadership is influence! Ana will reveal the skills necessary to become a great leader. Employ them and watch your business, and your life improve, in ways you couldn't imagine!
Communication Secrets
Learn the secret to communicating and watch your business and relationships soar! Ana will expose the 5 Principles and 5 Practices to make every communication an opportunity for a powerful connection. Learn the skill of connecting and apply it to your personal, professional, and family relationships, starting now!
Living on Purpose
We all have a longing to be significant, to make a contribution, to be a part of something noble and purposeful. And contrary to popular belief, we can! Surprisingly, there's no need for a novel idea, a particular age, or tremendous resources. What is takes to live a life of significance, and to create a lasting legacy, is to live intentionally. And, the point is to begin. Let Ana give your group the nudge that they need to take the first step.
"The journey of 1000 miles begins with one step." –Lao Tzu
Get notified of new talks and events.
Follow
Related Speakers View all
---
Mel H. Abraham

He has a riveting presence, created by his absolute ...

Milt Abel

Milt Abel is a corporate-clean stand-up comedian tha...

Mike Abrashoff

Former Commander of USS Benfold and Author of "It's ...

J.J. Abrams

Director, Producer, Writer, Author; Known for His Wo...

Melvin Adams

Former Harlem Globetrotter with a Passion for Reachi...

Kirk Acevedo

Actor Best Known for His Roles on "Dexter," "Band of...

Jose Antonio Abreu

Founder of El Sistema, Which Helps Venezuelan Childr...

Carol Adelman

Carol Adelman is a senior fellow and director of Hud...

Newton Aduaka

Newton Aduaka's award-winning Ezra, told through the...

Janus Adams

Award-Winning Journalist

Jenoyne Adams

African-American Novelist.

Khandi Alexander

Khandi Alexander (born September 4, 1957) is an Amer...

Shaun Alexander

NFL Great

Laila Ali

Undefeated 4 Time World Champion Boxer 24-0 with 21 ...

Alan Alda

Actor, Writer, Science Advocate, and Director

Adewale Akinnuoye-Agbaje

Fashion Model & Actor Known for "Lost," "Oz" & "Suic...

Jane Alexander

Actress and Former Director of the National Endowmen...

Bruce Aitken

Bruce Aitken was born in Invercargill New Zealand wh...

Gary Aldrich

On Independence Day, 1996, former FBI Agent Gary Ald...

Marilyn Albert

Dr. Marilyn Albert received her PD degree in Physiol...
More like Ana