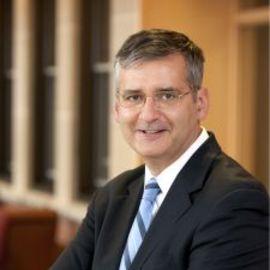 Andres Lozano
The chair of neurosurgery at the University of Toronto, Andres Lozano has pioneered the use of deep brain stimulation for treating Parkinson's, depression, anorexia and Alzheimer's disease.
Andres Lozano remembers the most satisfying case of his career – helping a boy with a genetic form of dystonia which had twisted his body to the point where he was only able to crawl on his stomach.
While he didn't respond to drugs, he responded wonderfully to deep brain stimulation. Three months after surgery, he was walking like a normal child. He's now a college student leading a normal life.
Lozano is a pioneer in deep brain stimulation.
His team has mapped out areas of the human brain and pioneered novel surgical approaches to treat disorders like Parkinson's disease, depression, dystonia, anorexia, Huntington's and Alzheimer's disease.
The chairman of neurosurgery at the University of Toronto, he holds both the R.R. Tasker Chair in Functional Neurosurgery at the Krembil Neuroscience Centre and a Tier 1 Canada Research Chair in Neuroscience.
Lozano has over 400 publications, serves on the board of several international organizations and is a founding member of the scientific advisory board of the Michael J. Fox Foundation.
He has received a number of awards including the Olivecrona Medal and the Pioneer in Medicine award, has been elected a Fellow of the Royal Society of Canada and the Canadian Academy of Health Sciences and has received the Order of Spain.
Videos
---
Related Speakers View all
---
Read Montague

An American neuroscientist and popular science autho...

Thomas Insel

Thomas Roland Insel is an American neuroscientist an...

Tal Golesworthy

Tal Golesworthy is an engineer and entrepreneur, wor...

Dr. Joel Selanikio

Award-winning Physician, Health & Technology Activis...

Toby Cosgrove

CEO and President at Cleveland Clinic

Adewale Troutman, MD, MPH, MA, CPH

President-Elect of the American Public Health Associ...

Giovanni Colella

Co-Founder & CEO at Castlight Health

Shradha Agarwal and Rishi Shah

Founders of Context Media, A mission-driven company ...

Kevin Breel

Stand Up Comic & Mental Health Activist

Courtney Nichols Gould

Co-Founder & Co-CEO, SmartyPants Inc.

Kim Gorgens

Kim Gorgens studies the brain's response to injury -...

Daniel Kraft

Physician, Scientist and Entrepreneur

Erica Frenkel

At Gradian Health Systems, Erica Frenkel works to br...

Jack Choi

CEO of Anatomage, a company specializing on 3D medic...

Dr. Mehmet Oz

Renowned Doctor, Host of "The Dr. Oz Show," Profess...

Rishi Manchanda

Physician and Public Health Innovator; President and...

Bart Knols

Scientist, Author, Entrepreneur

Amanda Gore

Psychologist; Expert in Emotional Intelligence and P...

Amy Purdy

Former "Dancing with the Stars" Contestant & Profess...

Chris Seper

Digital Media Entrepreneur, Founded MedCity Media, P...
More like Andres