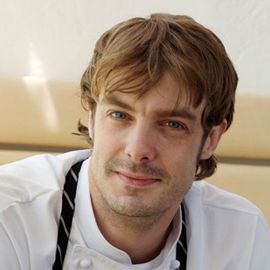 Barton Seaver is one of America's leading food thinkers and innovative ocean conservationists, committed to the creation of sustainable food systems with an emphasis on fisheries restoration. He is the author of the best-selling cookbook For Cod & Country, in which he explores thoughtful consumption of seafood while helping us recognize the mutual give and take between the consumer and the sea.
A graduate of the Culinary Institute of America and former executive chef at some of D.C.'s most celebrated restaurants, Seaver is known for his devotion to quality, culinary inventiveness and sustainability. In 2008, he was recognized as a "Seafood Champion" by the Seafood Choices Alliance and as "Rising Culinary Star of the Year" by the Restaurant Association of Metropolitan Washington. Esquire named him "Chef of the Year" in 2009 while Time has described him as "part of a new generation of chefs who consider sustainability an ingredient that can't be forgotten in their food."
Today, Seaver dedicates his career to restoring our connection with the ocean, culture, community, and the food we eat. He is a National Geographic Fellow, working with their Ocean Initiative to help restore our relationship with the water and in 2012 took a position at the New England Aquarium as the Sustainability Fellow in Residence. He also serves on the board of Harvard Medical School's Center for Health and the Global Environment. In addition to his non-profit collaborations, Seaver has a second book out in April 2013 called Where There's Smoke. . . Simple, Delicious, Sustainable Grilling.
A vivid storyteller and adventurer, Seaver passionately shares his solutions for leveraging existing resources, market economies, and corporate leadership to improve the ocean's health, while helping audiences recognize that everything we eat has a global impact.
Click Here to register and get pricing on booking Barton Seaver for your next event!
Videos
---
Speech Topics
---
Delicious Is the New Environmentalism
Learn how environmental issues translate through the lens of dinner into everyday cultural concerns such as health, jobs and community. The compelling narrative of conservation is a story of responsible consumption. Seaver shares insight into how sustainable food is not just about what products we use, but just as importantly, how we use them.
Books
---
Get notified of new talks and events.
Follow
Related Speakers View all
---
Malcolm Gladwell

Bestselling Author, "What the Dog Saw," "Outliers," ...

Jason Clay

Senior Vice President, Food & Markets at WWF

Sir Ken Robinson

Internationally Acclaimed Expert on Creativity and I...

Sir Richard Branson

Founder of Virgin Group

Eric Schmidt

Executive Chairman & Former CEO, Google

Graham Hill

Founder, Life Edited

Bunker Roy

Founder of Barefoot College

Van Jones

CNN Contributor, Best-selling Author; Human Rights, ...

Daniel Pink

#1 New York Times Bestselling Author, To Sell is Hum...

James Howard Kunstler

Novelist, Urban Planning Advocate, Journalist & Soci...

Dean Kamen

Inventor and Entrepreneur; Designer of the Segway

Bill Gates

Co-chair of the Bill & Melinda Gates Foundation; Ch...

Derek Sivers

Founder of CD Baby, new project called "MuckWork"

Clay Shirky

Expert on New Technology and Social Media, and How T...

Sheryl Sandberg

COO of Facebook

Dan Ariely

Best-selling Author, "The (Honest) Truth About Disho...

Jamais Cascio

Author, Founder of Open The Future, Co-founder of Wo...

Gary Vaynerchuk

Co-Founder & CEO, VaynerMedia

Peter Diamandis

Thought-leader & Founder and Chair of the X Prize Fo...

Bill Nye

AKA Bill Nye the Science Guy; Science Communicator, ...
More like Barton