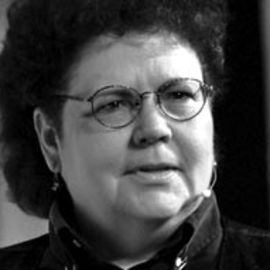 Becky Blanton
Becky Blanton is a writer, photographer and former journalist who found herself homeless, but bounced back to tell her story and inspire others.
Primarily, Becky Blanton is a writer. She was a journalist for more than 22 years, working as a reporter, photojournalist and editor. Today, she is best known for her independent writing. Tim Russert selected her essay "The Monster," to be included in his last book, Wisdom of Our Fathers. On the heels of this success, Becky won a competition held by Dan Pink to come up with an additional lesson for his bestselling book The Adventures of Johnny Bunko. The prize was admission to TEDGlobal 2009, where she gave a talk on her personal journey through homelessness.
Blanton is now working on her first book, to be titled Staying Hungry, the Official Guide for Never Settling for What Life Puts on Your Plate, as well as a second about how her dog saved her life while she was homeless. The proceeds from the second book will be donated to The Humane Society. Blanton also continues to blog and post photos from her adventures at beckyblanton.com
Related Speakers View all
---
Sheryl WuDunn

Pulitzer Prize-Winning Journalist; Co-author of Half...

Jessica Jackley

Co-Founder of Kiva, the Revolutionary Microlending W...

Dan Phillips

American Designer and Builder Who Constructs Homes O...

Esther Duflo

Takes Economics Out of the Lab and Into the Field to...

Paola Antonelli

Senior Curator, Department of Architecture and Desig...

Neil Gershenfeld

Director of MIT's Center for Bits and Atoms

David B. Agus

Professor of Medicine and Engineering, University of...

Madeleine Albright

First Woman to Become a United States Secretary of S...

Pete Alcorn

Pete Alcorn is the head of podcasting for Apple, and...

Isabel Allende

Novelist

Charles Anderson

Charles Anderson studies marine life in the Maldives...

Ravin Agrawal

As an emerging markets investor, Ravin Agrawal tries...

Dan Ariely

Behavioral Economist, Professor at Duke University, ...

Karen Armstrong

Author and Thinker on the Role of Religion in the Mo...

Rachel Armstrong

Designer, Scientist and Sustainability Innovator

Yann Arthus-Bertrand

Photographer & Videographer

Kristen Ashburn

Kristen Ashburn's photographs bring us face-to-face ...

Dan Schulman

President and CEO Designee, PayPal

Anthony Atala

Director, Wake Forest Institute for Regenerative Med...

Jennifer Toth

Author of "The Mole People" and "Orphans of the Living"
More like Becky