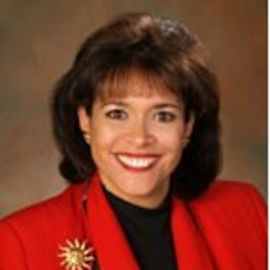 Bernadette Vadurro has a Bachelors of Business Administration/Management Degree and is a Magna-Cum Laude graduate from the College of Santa Fe.
Bernadette Vadurro is a professional speaker and an award winning author. She is the President of Speakers Live, Inc. and has served as past president of the New Mexico State Chapter of the National Speakers Association and also the Past President of Capitol City Toastmasters. She is an ATM-B Toastmaster.
Ms. Vadurro is a former contract trainer to Career Track and the National Seminars Group. She has presented to Fortune 500 Companies, government agencies and top associations that include organizations such as the Chrysler Corporation, U.S. West, American Express, the C.I.A. (Central Intelligence Agency), the Department of the Interior, United States Public Health Services, Farm Credit Services, Los Alamos National Laboratory, Fort Monmouth Military Base, Meeting Planners International, the International Federation of Coaches, and many more. Bernadette has presented in 49 of the 50 US States and in Canada and Mexico.
Bernadette was named Women of Excellence in 2009 by Celebrating Excellent Women. In 2008, she was nominated by the New Mexico Commission on the Status of Women as an Outstanding Woman. Bernadette is a distinguished recipient of Latina Style Magazine's, Ana Maria Arias Award, honored in 2007 as one of our nation's top Hispanic Business Leaders.
Vadurro has been featured on a variety of television and radio programs and has been quoted in newspapers and magazines throughout the U.S. Bernadette's most recent book America's Conscience: Facing Threats to Democracy, the Middle Class and Our World was named one of the best books of 2008 winning the prestigious Freedom Fighter Bronze Award, presented by Independent Publishers. She is the co-author of two business books, Motivational Leaders and The Service Path.
"Dynamic, exciting and highly motivational" are words audiences use to describe Bernadette Vadurro. Bernadette specializing in business related topics. Her versatility in presenting to a wide variety of professionals from many different backgrounds and from many different walks in life coupled with her interest in people and her determination to give customized presentations and exceed audience expectations, leaves participants excited, enthusiastic and ready to embrace important changes every time!
Videos
---
Related Speakers View all
---
LisaVanAllen

The Biz Doctor with prescriptions for your success!

Ron Broussard

STRETCHYOURSELF

Candace Reese

The CEO Pundit: Empowerment Speaker, Inspirational C...

Roberto Alas

Reaching and identifying the potential in every sing...

Michelle Courtney Berry

Breakthrough Expert, Founder and CEO of LifeFlowPlan...

David Nour

Social Networking Strategist

Marty Stratton

Entrepreneur Spirited Speaker; Driven for Your Success!

Gillian Muessig

Thought Leader in Global Entrepreneurship

Micah Solomon
Jay Handler

Speaker, Radio Host & Author of "The 8 M's of Market...

Kristen Hagopian

Personal Finance Author, Popular Columnist, Consumer...

Tim Rooney

Today, PeopleMation is living out his dream to "Help...

Pam Moore

CEO & Founder Marketing Nutz, Social Business Strate...

Nicholas de Wolff

Startup Advisor, Executive Leader, Business Strategy...

Liz Nead

Life Coach and Inspirational Speaker

Tim Seitz

The World's Happiest Hypnotist

Knauer Ulrike

You will have fun and learning about High-Performanc...

Jim Carroll

One of the World's Leading Global Futurists, Trends ...

Ian Stirling

Speaker on Business Growth, Franchising and developi...

Gail Worth

When voted chairperson of Harley-Davidson's managem...
More like Bernadette