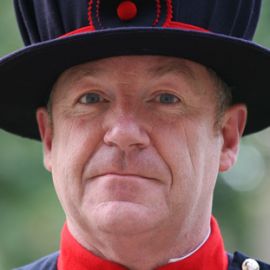 Bill Callaghan
Serving Yeoman Warder at the Tower of London - also known as a Beefeater - and a former Sergeant Major in the British Army.
Bill Callaghan is a Yeoman Warder at the Tower of London - also known as a Beefeater. He describes this role as "a stand up historian" - He was formerly a Sergeant Major in the Royal Army Medical Corps with 23 years military service.  Rejected by the Royal Navy, Royal Marines and the Royal Air Force on academic grounds, Bill was readily accepted into the Army; an organisation that, in the late Seventies, viewed academic achievement with a deep suspicion. He enlisted into the Royal Army Medical Corps at the age of seventeen; excelled in basic military training and was graded 'above average' as a Nurse and Paramedic.  He was quickly identified as an instructor and trainer in all these fields and quickly rose through the ranks, at one point being the youngest Sergeant in his Corps. His service took him all over the UK (including Northern Ireland) most of Europe, the Balkans and Scandinavia, quite a bit of the Middle East, some of East Africa and some remote islands in the South Atlantic.  In addition to his medical duties Bill Callaghan has been trained and employed in Intelligence, Public Information and Psychological Operations. He has served with Guards, Infantry, Cavalry, Airborne, Commando and Special units. After an unpromising start academically, he obtained a BA hons in European History with diplomas in art and religious studies, from the OU, he also attended university courses for military studies in European, Middle Eastern and American Politics at Burwall's College Bristol and St Andrews University.  Bill retired as the Army Medical Services Recruit Company's Sergeant Major; a unique post, at Lichfield in 2002 after twenty-three years of service. He was sworn in as "a Member of the Sovereign's Bodyguard, a Yeoman Warder of HM Tower of London, of the Yeoman of the Guard in Extraordinary" - better known as a Beefeater - in August 2002. A post he proudly holds to this day.
In his 'spare time', Bill volunteered as a Crewman on the RNLI's busiest lifeboat - Tower Lifeboat - on the River Thames in central London. Although no longer afloat he continues to fundraise for the RNLI. ​ Bill describes himself as 'Single, living in a Castle, in central London, with parking.' To relax, in quiet moments he writes fairly awful poetry and pushes paint around canvas.
Click Here to register and get pricing on booking Bill Callaghan for your next event!
Videos
---
Speech Topics
---
"History Is Not What It Was"
Told in Bill Callaghan's inimitable style, his after dinner speech is a hilarious and unique take on history, based around his role as one of HM The Queen's Yeoman Warders and the theme of his presentation that 'history is not what it was'; including fascinating insights about its famous — and infamous — inhabitants such as Henry VIII and William Wallace - as depicted in Mel Gibson's Braveheart movie.
But be warned, nobody is safe from the former Sergeant Major's dry wit; Bill jovially lambasts everyone including the Scottish, Royal Marines and the French. Did you know that Henry VIII used a medieval equivalent of Internet dating to find one of his wives? Whether you're a bit of a history buff, or can't stand thinking about the past, Bill Callaghan will have you crying with laughter!
Bill Callaghan is also known for doing his research prior to each engagement and, where possible, adding bespoke material relevant to the client or their own industry.
Get notified of new talks and events.
Follow
Related Speakers View all
---
Po Bronson

Successful novelist, prominent writer of narrative n...

Campbell Brown

Award Winning Journalist

Todd Bischoff
Roger Cressey

NBC Counter-terrorism Analyst & Former Presidential ...

David Ewing Duncan

Internationally Best-Selling Author & Journalist

Sir Harold Evans

Legendary Publisher & Best-Selling Author

John Forte

Singer, Songwriter & Producer

Michael Fuchs

Former Chairman/CEO of Home Box Office (HBO)

Marc Ginsberg

Former U.S. Ambassador to Morocco & Fox News corresp...

Larry Julian

Best-Selling Author, Leadership Coach & Business Expert

Michelle Malkin

Award Winning Conservative Columnist, Best-Selling A...

Meghan McCain

Political Columnist, Author & Award-Winning Blogger

Byron Pitts

CBS News Chief National Correspondent, Contributing ...

J. Zink
William K. Reilly

World Wildlife Fund Chairman Emeritus & Co-Chair, Na...

Winston Scott

Former NASA Astronaut

Tiffany Shlain

Filmmaker & Founder of the Webby Awards

Rebecca Skloot

Award Winning Science Writer, Author "The Immortal L...

Sir Howard Stringer

President, Chairman & CEO of Sony Corporation

Jonathan Tisch

Chairman & CEO of Loews Hotels, Leading Authority on...
More like Bill