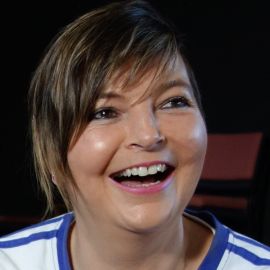 Billie Jordan
After surviving an abusive childhood and repeated trauma in a fatal earthquake, Billie Jordan used these experiences as a catalyst for improving the lives of elderly people in her community - setting them up as the world's oldest hip hop dance group with
After surviving an abusive childhood and repeated trauma in the Christchurch Earthquake, Billie Jordan used these experiences as a catalyst for improving the lives of people in her community. She established The Hip Op-eration Crew™; a hip hop dance group consisting of senior citizens aged 71 to 96 years old. They are in the Guinness World Records as the oldest dance group in the world and have performed at the World Hip Hop Championships in Las Vegas, and to an audience of 15,000 at the Taipei Arena in Taiwan.
A feature documentary film called Hip Hop-eration about Billie's mission to get her elderly neighbours to the World Hip Hop championships has been playing in cinemas all over the world and has won dozens of awards at international film festivals.
Billie was recognised by Her Majesty the Queen in 2016 with an MNZM (Member of the NZ Order of Merit), awarded New Zealander of the Year in the Local Hero category in 2015, has done a Ted Talk to critical acclaim, and been a guest speaker at the Beehive and many of New Zealand's most prestigious events. She has now launched the Hip Op-eration Dance Academy™ globally so every person in the world, including senior citizens, has the opportunity to learn hip hop dance through her academy.
Hear the inspiring story of how Billie changed the lives of her elderly neighbours and how they changed hers. If your audience don't give her a standing ovation at the end, they'll be the first audience not to do so!
http://www.billiejordan.org/ http://www.hipop-eration.com/in-news/ http://hiphoperationthemovie.com/
Click Here to register and get pricing on booking Billie Jordan for your next event!
Videos
---
Reviews
---
Customer Testimonials

"Billie was absolutely wonderful and from all the feedback since, people are still considering so many of the pearls of wisdom and inspiration she gave us. We can't thank and praise her enough." Sky City Auckland Community Trust

"Billie was fantastic! She has a great story to tell and she told it really well. It goes to show what you can do when you put your mind to something and she has certainly made a difference. She had everyone captivated and in fits of laughter with her stories, she has passion, drive and a real desire to help people. She is going to continue to do great things and we would have no problems recommending her to others." Backpacker Youth and Adventure Tourism Association
​
"Thank you so much once again for having Billie speak at our conference last night. Everyone absolutely loved her presentation and her dance crew's performance – today the office is abuzz with how amazing they all were." Lotto New Zealand
​
​We very much appreciate Billie opening our conference with such energy and authenticity. The response to her keynote presentation has been hugely positive. Billie's messages about innovation, 'can do' attitude, looking for the gold in people, and never giving up resonated very strongly with members of our sector. Conference participants used the words "inspirational," "fabulous," and "visionary" to describe her and her work and said she was an "awesome, inspiring speaker." Adult Community Education
​
​"Her vision bought out of hardship was inspirational, and the crew magic. When I saw the movie last year (my favourite movie of the year) I vowed to grow old disgracefully. Billie and the dance team have shown people how to live instead of waiting to die. They can all hold their heads high and be proud of their amazing achievements. There is so much that is wrong with our care of the elderly in most 'civilised' countries, and Billie is addressing it in a very personal way."
and
​​"Thank you again, the staff are still on cloud nine, so inspired and almost daily we receive comments about how fantastic it was – both the crew and Billie's speech – she truly has an amazing story to tell and has touched our people immensely." Sovereign Insurance

"I saw Billie and her crew at the conference (and I'm watching the documentary that was on prime last night as I write this)... I felt compelled to write this email and tell you Billie is amazing!! I loved hearing her speak and seeing what she has achieved with the group is nothing short of amazing. Keep eating up life! Well done."
and
"I wanted to say thanks so much for Billie's speech and performance last week. It was a standout and is getting such great feedback. Also, personally it was great to meet Billie - I think she is an amazing lady!" Spark
​
Billie has been the talk of the audience since her presentation, as she not only relayed her entertaining experiences with The Hip Op-eraton Crew but has prompted the audience to review their own approach to 'the grey tsunami' and how they themselves want to approach their future. She has raised our awareness which is much more than being just entertainment. An excellent speaker with a relaxed style and very entertaining. We unreservedly recommend Billie Jordan. Zonta

Billie Jordan

· Billie Jordan Enterprises
Speech Topics
---
Themes covered in speaking presentations
Style: Inspirational, Entertaining, Motivating, Visionary, Insightful, Impactful, Brilliant.
Category: Inspiration, Teamwork, Leadership, Overcoming Obstacles, Challenging Convention, Exceeding Expectations, Make it Happen, Against All Odds, Community, Business, Difference One Person Can Make.
Role: Keynote, After-Dinner, Breakfast, Workshops, Entertainment (dance crew also available).
Travels From: Waiheke Island, Auckland, New Zealand.
News
---
In The News
Billie Jordan and her Hip Op-eration Crew have been featured in the following news media:-
Front page of the Wall Street Journal Michael and Kelly Show, USA Huffington Post Daily Telegraph Irish Examiner Upworthy BBC Television BBC Radio Sunday Night Programme, Austrailia Fox News, USA Ruptly News Agency Europe Associated Press, World Telegraph, UK Breakfast New Zealand Today Australia Chinese Television, China CCTVA, Africa Jay Thomas Show, USA Las Vegas Sun, USA TVNZ, New Zealand TV3, New Zealand Channel 7, Australia Channel 9, Australia Radio New Zealand ABC Australia France International Courier Womens Weekly Lucky Break Magazine Dance Connect Taipei Prime Time News, Taiwan ...plus lots more from Israel and Amsterdam to Sweden and Greece.
Get notified of new talks and events.
Follow
Related Speakers View all
---
Mel H. Abraham

He has a riveting presence, created by his absolute ...

Milt Abel

Milt Abel is a corporate-clean stand-up comedian tha...

Mike Abrashoff

Former Commander of USS Benfold and Author of "It's ...

J.J. Abrams

Director, Producer, Writer, Author; Known for His Wo...

Melvin Adams

Former Harlem Globetrotter with a Passion for Reachi...

Kirk Acevedo

Actor Best Known for His Roles on "Dexter," "Band of...

Jose Antonio Abreu

Founder of El Sistema, Which Helps Venezuelan Childr...

Carol Adelman

Carol Adelman is a senior fellow and director of Hud...

Newton Aduaka

Newton Aduaka's award-winning Ezra, told through the...

Janus Adams

Award-Winning Journalist

Jenoyne Adams

African-American Novelist.

Khandi Alexander

Khandi Alexander (born September 4, 1957) is an Amer...

Shaun Alexander

NFL Great

Laila Ali

Undefeated 4 Time World Champion Boxer 24-0 with 21 ...

Alan Alda

Actor, Writer, Science Advocate, and Director

Adewale Akinnuoye-Agbaje

Fashion Model & Actor Known for "Lost," "Oz" & "Suic...

Jane Alexander

Actress and Former Director of the National Endowmen...

Bruce Aitken

Bruce Aitken was born in Invercargill New Zealand wh...

Gary Aldrich

On Independence Day, 1996, former FBI Agent Gary Ald...

Marilyn Albert

Dr. Marilyn Albert received her PD degree in Physiol...
More like Billie