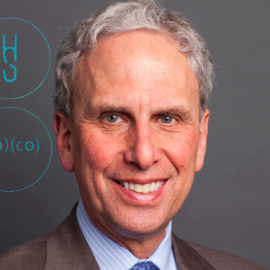 Bob Roth is one of the most experienced and sought-after meditation teachers in America. Over the past 40 years, Bob has taught Transcendental Meditation to many thousands of people and authored an authoritative book on the subject, fittingly entitled, Transcendental Meditation, which has been translated into 20 languages. Bob currently serves as the CEO of the David Lynch Foundation, a 501(c)(3) charity which has brought meditation to over 500,000 inner-city youth in underserved schools in 35 countries, to veterans and their families who suffer from post-traumatic stress, and women and children who are survivors of domestic violence.
Bob also directs the Center for Leadership Performance, another nonprofit, which is bringing meditation to Fortune 100 companies, government organizations, and nonprofit charities. Bob is the host of the SiriusXM radio show, "Success Without Stress" and has spoken about meditation to industry leaders at such gatherings as Google Zeitgeist, Aspen Ideas Festival, Wisdom2.0, and Summit.
Videos
---
Links
---
Related Speakers View all
---
Dr. Delaney Ruston

Physician & Documentary Filmmaker; Best Known for "U...

Irit Wald

Co-Founder & CEO at ThinkUp

Lisa Lewtan

Health & Lifestyle Coach; Founder of Healthy Happy, ...

Ed Finkler

Founder of Open Sourcing Mental Illness

Krishna Das

Grammy Award-Nominated Musician; Best Known for his ...

Oliver Chittenden

Founder at Head Talks

Meir Kryger

Professor of Pulmonary Medicine & Clinical Professor...

Orgyen Chowang

Meditation Master, Teacher & Author of "Our Pristin...

Kerstin O'Shields

Executive Presentation Coach, Speaker & Vocal Instru...

Jason Phillips
Peter W. Benjamin

Health and Life Coach, Manual Therapist, LMT, CPT

Dr. Alice Forrester

Executive Director at Clifford Beers Clinic

Adewale Troutman, MD, MPH, MA, CPH

President-Elect of the American Public Health Associ...

Kim Gorgens

Kim Gorgens studies the brain's response to injury -...

Shane Ennover

Personal Trainer at ConBody; Founder of Addicts Athl...

Nirali Shah

Mindful Meditation Expert

Mary Wong

Practitioner, Health Educator & Author of "Pathways ...

Robert Silverman

Chiropractor and Certified Clinical Sports Nutritionist

Elyse Kopecky

Chef, Speaker, Nutrition Coach, and New York Times B...

Dr. Mikhail Varshavski

Known as "Doctor Mike," 3rd year medical resident NY...
More like Bob