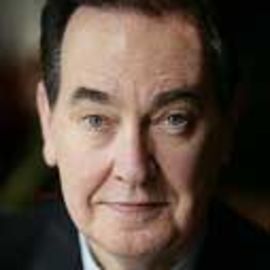 With a twice-weekly column appearing in over 600 newspapers nationwide, Cal Thomas is the most widely read and one of the most highly regarded voices on the American political scene. He is a panelist on the popular "Fox News Watch" show, which airs Saturdays at 6:30 p.m. ET.A graduate of American University, Thomas is a 35-year veteran of broadcast and print journalism. He has worked for NBC, CNBC, PBS television, and the Fox News Network, where he currently provides weekly political commentary. He has appeared on NBC Nightly News, Nightline, The Today Show, Good Morning America, CNN's Crossfire, Larry King Live, and the Oprah Winfrey Show.
In 1995, Thomas was honored with a Cable Ace Award nomination for Best Interview Program. Other awards include a George Foster Peabody team reporting award, and awards from both the Associated Press and United Press International.
A writer of force and clarity, Thomas has authored ten books, including his most current release, The Wit and Wisdom of Cal Thomas (Barbour Publishing 2001). He has also penned Blinded by Might: Can the Religious Right Save America?, A Freedom Dream, Public Persons and Private Lives, Book Burning, Liberals for Lunch, Occupied Territory, The Death of Ethics in America, Uncommon Sense and Things That Matter Most.
In addition to his journalistic and literary achievements, Thomas lectures frequently on college campuses and is in great demand as a speaker for non-profit and corporate audiences worldwide.
Thomas and his wife, Ray, who is a family therapist, have four children and eight grandchildren and live in the Washington DC area.
Books
---
News
---
Cal Thomas - chicagotribune.com
Cal Thomas is America's number one nationally syndicated political columnist. With a twice-weekly column appearing in more than 500 ... Read full bio ...
Related Speakers View all
---
Rick Santorum

Leading Conservative Voice, 2016 & 2012 Republican P...

Buster Soaries

Senior Pastor of First Baptist Church, Lincoln Garde...

Steve Largent

Member of the United States Congress, Retired Americ...

David Aikman

Best-selling author & former TIME Magazine Sr. Corre...

David Limbaugh

Attorney, Conservative Columnist & Author

Kay C. James

Motivational Speaker, Founder of the Gloucester Inst...

Maurice Possley

Pulitzer Prize-winning Journalist, Author, Activist

Kenneth Starr

On April 6, 2004, Kenneth W. Starr was appointed dea...

Alan Keyes

Former US Ambassador to the UN Social & Economic Cou...

Stephen Mansfield

Best-selling Author and Founder, The Mansfield Group

Joel Rosenberg

New York Times bestselling author of THE LAST JIHAD ...

Dr. Barry C. Black

Chaplain of the U. S. Senate

Star Parker

Founder and President of CURE; Focuses on Issues of ...

James Brown

Sportscaster; Known for CBS's "The NFL Today" and Sh...

James Golden

"Bo Snerdley," Call screener, producer, and engineer...

James Ryle

Founder of TruthWorks Ministries

Janet Parshall

Motivational, Pro-Life Speaker, Moody Radio Talk Sho...

Eric Metaxas

American Author, Speaker, TV Host

Kamal Saleem

Former Muslim and Founder of Koome Ministries

Jennifer O'Neill

Internationally acclaimed actress, Christian and Pro...
More like Cal