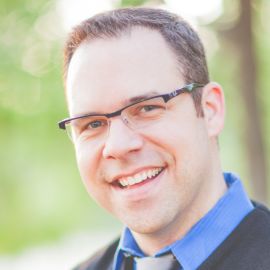 Caleb Jenkins
Published Author, Engaging Speaker. Have a great time - learn something too. Agile | UX | Microsoft Software
Caleb Jenkins has spoken at local and international conferences since 2005 - last year he was the keynote speaker at the Tulsa TechFest and a featured presenter at the SELA Conference in Israel. As a former Microsoft Developer evangelist and 6 year Microsoft MVP award recipient, Caleb is well known for his depth of knowledge, creative excitement, engaging and enthusiastic speaking style. Currently he manages the User Experience team at GetThere (the largest white-label travel portal in the world) and co-chair Sabre's Employee Innovation Council (Sabre is the largest software technology company in the travel industry).
Caleb has worked as an international Agile Coach, is a published author (Wrox Press), video content creator (Adobe.TV - Developers are From Mars, Designers are from Venus - Developer Designer Zen), Principal Software Architect (Six Flags Corporation, Proaction Mentors, Improving Enterprises, American Airlines, Travelocity, Dollar Thrifty Auto Group, Sunoco Oil Company).
"He's funny, informative and full of class. You'll have a great time in his sessions and learn a lot too."
You can follow Caleb on twitter @calebjenkins or read his blog at developingUX.com
Click Here to register and get pricing on booking Caleb Jenkins for your next event!
Videos
---
Reviews
---
DDNUG on 4/14/2016

One of the best speakers out there.

Mark Rayburn

· MAG
Fort Worth .NET Users Group

Caleb's presentation, Code to DI for - Dependency Injection for Modern Applications, was the first time I attended a .NET Users Group meeting. I'm pretty sure I'll need to lower my expectations for future speakers because it's going to be tough to top Caleb. He had me laughing so hard I could hardly eat my nachos.

I recently moved from engineering to software development so it was eye opening to see the opportunities in this field as noted by Caleb's background. I feel honored to have been given front row seats to one of his presentations.

Javier Paredes

· Bell Helicopter
Fort Worth .NET Users Group

Great and engaging presentation on dependency injection. Excellent illustrations of ways to incorporate code pattern into software design.

Ron Morton

· AGS
Fort Worth .NET Users Group

Caleb's presentation, Code to DI for - Dependency Injection for Modern Applications, was entertaining and inspirational. I can't stop thinking of ways to add Dependency Injection to my applications.

Chuck Ray

· Levi Strauss & Co.
Dallas C# SIG

Caleb's presentation was relevant, engaging, and the opposite of boring. His ability to get the room engaged and thinking about improving code and becoming better at our craft is excellent.

Brian Huddleston
Big Design Conference 2010 and 2012

Caleb is uber-entertainment. He exudes high energy, he is super articulate, he knows his material, chooses interesting topics, presents subjects in a highly innovative fashion, and [best of all] he really understands the needs of his audience. He tailors his presentation to the people he is speaking to. Whether developers, designers, or business personnel, he knows their language, understands what will keep them engaged, and presents his talks in a way that energizes and mobilizes them. No one walks out of one of Caleb's presentations wondering what they are supposed to do next. Their biggest challenge is figuring out how fast can they can get back to work so I can start putting his recommendations into practice.

Aaron Hursman
Tulsa TechFest 2010

Caleb is an energetic, engaging, relavent speaker who consistently brings his love for technology to his talks. If ever you have a chance to attend one of Caleb's talks you can rest assure you will leave enlightened and entertained.

David Yancey
10/5/12 Tulsa Tech Fest

Caleb's talk on the importance of tdd was centered around the theme that code is naked without tests. Caleb is one of the only speakers who mentions -why- testing is a good habit to start, and what the goal of testing is. TDD was presented in English as testing for the 'given/when/then' concept, and dependencies were addresses as lego pieces. (Finally, something I can wrap my brain around.) TDD has been a pretty foreign concept to me, and Caleb helped demystify some of the simpler concepts.

Amanda Hardeman
Microsoft, Improving Enterprises, various Tech Fests

Anytime I go to any event, the first person I look to see if they are presenting is Caleb. I know two things will happen when Caleb talks; his classroom will fill up early, and he will make me learn something while making me laugh. I've seen hundreds of speakers, most of them dry and humorless. Not Caleb, he always makes me think about what I am doing, keeps things moving, and is always relevant to today's technologies. I would rate him the best speaker I have ever seen.

Stephen Britz
Dallas, TX

Caleb is a very engaging and energetic speaker. He always entertains the crowd while working his messages in with deft craftsmanship. In particular, I enjoy how Caleb is able to adjust his talk track, style and content to adapt to the needs of his audience.

Chris Koenig
Dallas, TX - June, 2006

Caleb is an engaging, dynamic speaker with an uncanny ability to connect with the audience. His knowledge has many depths, and he tailors his presentations to the audience, keeping everyone involved and focused. Since this original talk, I've heard Caleb speak several times in both large and small venues, and he continues to wield his skill like a finely honed sword.

Chris Patterson
North Dallas .Net User Group

Caleb is greatness. Very entertaining and educational. Great depth in his talks and he keeps people from every level involved in the talk, from BA and PM-types with just enough technical savvy to confidently show up for a tech talk to the hard-core devs who look forward to stumping the speaker. Everyone will take something away and look forward to catching him for another session. Caleb is awesome.

Adonis (Telligent)
I have seen Caleb speak at many user groups, local and regoinal events.

I have always enjoyed learning from Caleb during his sessions. He has a fantastic way of combining information so each individual in a mixed audience will walk away with knowledge they can use. Not only does Caleb show up prepared with material to fit the audience but he also is fantastic at gaging and engaging the audience to be sure his talk is making the mark and he will adjust the content mid flow if he needs too.
As part of community events I have been involved with, I have had to choose speakers and content. Caleb has never failed to deliver. He has always received the highest marks from attendees and I have never failed to invite him back.


Teresa Burger
Many times

How many technical talks have you been to where you were about to fall asleep? Well if you attend one of Caleb's that will not happen. Caleb is a very energetic speaker that passionate and knowledgeable about the skills needed to build great software. He is also one of the most popular Speakers in the South Central Region and on UserGroup.tv. His talks are "can't miss".

Shawn Weisfeld
Get notified of new talks and events.
Follow
Related Speakers View all
---
Matthew Evans
Roy Osherove

Team Leadership, Agile Development, Test Driven Deve...

Brandon Satrom

Open web developer, writer and technical speaker

Andrea Raquel

Trained Broadcast Journalist / Marketing Pro & Exper...

Darian Shirazi

Founder & CEO of Radius Intelligence, Inc.

Amanda Gore

Psychologist; Expert in Emotional Intelligence and P...

Liz Nead

Life Coach and Inspirational Speaker

Hypnotist The Incredible BORIS

Keynote Speaker and award-winning Motivational Hypno...

Glenn F. Henriksen

He'll gladly talk about technology and how we can wo...

Tara Feener

An engineer at FiftyThree, makers of Paper for the iPad

Caio Proiete

Independent Developer and Technical Training Consult...

Kevin Parker

Future biz Tomorrow's tech

James Munton

Author/Deception Expert/Identity Theft Speaker

John Meluso

The World's only,Human Bridge, "Connect and Grow Wea...

Christine Cashen

Motivational Speaker; Author of THE GOOD STUFF: Quip...

Bil Simser

Web and Collaboration Architect

Jon Steinberg

Founder Cheddar; Former CEO Daily Mail, Former Presi...

David Glazer

Director of Engineering, Friend Connect, Google

Jennifer Tsai

Software Engineer, Pinterest

Scott Hanselman

Software Architect, Engineer, Speaker, Author, Teach...
More like Caleb