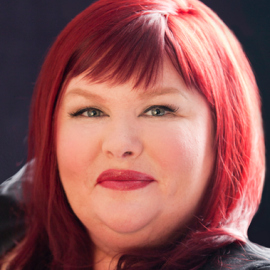 Cassandra Clare
Author of the #1 New York Times, USA TODAY, Wall Street Journal, and Publishers Weekly Bestselling Mortal Instruments Series
Clare was born Judith Rumelt, to American parents, in Tehran (Iran). Her parents are Elizabeth and Richard Rumelt, who is a business school professor and author.Her maternal grandfather was film producer Max Rosenberg.Clare is Jewish, and has described her family as "not religious".
As a child, Clare traveled frequently, spending time in Switzerland, England, and France. She returned to Los Angeles for high school, and from then on split her time between California and New York, where she worked at various entertainment magazines and tabloids, including The Hollywood Reporter.
While living in Los Angeles Clare began writing fan fiction using the name Cassandra Claire. The Draco Trilogy based on Harry Potter and The Very Secret Diaries based on The Lord of the Rings were popular.However, she deleted her fan fiction from the Internet shortly before her first novel, The City of Bones, was published under the name Cassandra Clare.
She is also friends with author Holly Black, and their books occasionally overlap, Clare mentioning characters from Black's novels and vice versa, such as Val and Luis from Black's Valiant.
Clare is also credited with creating the "City of Fallen Angels treatment" where a "letter" from one character to another is attached to the back of a book. The goal is to spur print book sales
She currently resides in Amherst, Massachusetts, with her husband, Joshua Lewis, and three cats.
In 2004, Clare started working on her first-published novel City of Bones, inspired by the urban landscape of Manhattan. City of Bones was released by Simon & Schuster in 2007.
City of Bones, a contemporary fantasy story revolving around characters Clary Fray, Jace Wayland, and Simon Lewis became a New York Times bestseller upon its release. City of Ashes and City of Glass completed the trilogy. In 2009, a fourth installment, City of Fallen Angels, was announced. It was recently published April 5, 2011.
Clare has stated that City of Fallen Angels is actually the start of a second Mortal Instruments cycle, which will include two other books named City of Lost Souls and City of Heavenly Fire. She said this new cycle is going to be centered on the same characters as in the first cycle, as well as a few new characters we will meet in the new books.
In 2009 Clare also announced a new series of prequels called The Infernal Devices set in the same universe as The Mortal Instruments, but in the Victorian era. This series is planned to consist of three books: Clockwork Angel, published on August 31, 2010, Clockwork Prince, published on December 6, 2011, and Clockwork Princess, slated for release in March 2013.
The Mortal Instruments series has been optioned for film by Unique Features and Constantin Film.First-time writer Jessica Postigo has been hired to write the screenplay,based on the first book in the series.Also, Lily Collins has been cast as the lead role of Clary Fray, and Sweeney Todd actor Jamie Campbell Bower has been cast opposite her as Jace Wayland.