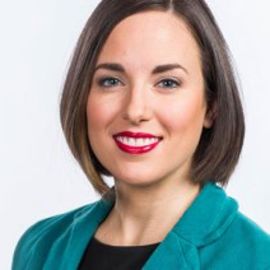 Chelsea Shields is a biocultural anthropologist, a research and strategy consultant, and an outspoken activist for women's rights.
Shields has over a decade of research experience in populations at home and around the world. She's also a strategist with broad training in user experience, brand strategy, social media and human behavior. As an activist, she focuses mostly on issues affecting women and women of color, particularly religious gender inequality, and she has been a co-founder or leader of several Mormon-focused women's rights movements such as LDSWAVE: Women Advocating for Voice and Equality, Ordain Women, Mormons for ERA and The Mormon Women's Roundtable. A regular guest on podcasts, at conferences, and as a commentator and a contributor in the 2015 book Mormon Feminism: Essential Writings, Chelsea is changing the way we think about gender roles in religion.
Shields is best known for her activism to combat religious gender inequality – specifically in the Church of Jesus Christ of Latter-day Saints (or Mormon Church) in which she was raised, though she is currently inactive and is no longer a believer in Mormon doctrine or scripture. Shields delivered a TED Talk on the topic of Religious Gender Inequality at the TED Fellows Retreat in September 2015. In November 2015, the talk was featured on TED.com under the title, "How I'm Working for Change Inside My Church."
Shields is also on the board of the Sunstone Education Foundation, an organization that discusses Mormonism through scholarship, art, short fiction, and poetry.
Shields' academic work focuses on the concept of social susceptibility or why human bodies have evolved to be susceptible to social manipulation. She has spent 26 months over the course of a decade in the field in West Africa researching Asante indigenous healers,[20] ritual ceremonies, and biocultural interactions. Shields argued that grounding human behavior in social adaptations and viewing biocultural interactions in sickness and healing from an evolutionary perspective reveals important discoveries in placebo and ritual studies, religion, pain, stress, emotions, empathy, and social inequality. Shields spoke about how these sociocultural, biological and evolutionary concepts clash in a TED talk at the 2013 TED Fellows Retreat in Whistler, British Columbia, Canada, where she used an Asante ethnographic case study of bonesetting to elucidate socially mediating pain mechanisms.
Shields was originally a cultural anthropologist and extended her studies to include a PhD in biological anthropology in order to explain the proximate and ultimate mechanisms of what was happening during ritual healing ceremonies.
Videos
---
Speech Topics
---
Evolutionary Medicine
Social Susceptibility
Placebo and Nocebo Studies
Pain
Stress
Coping Mechanisms
Why Belonging Matters
Evolution, Religion, and Health
Evolutionary Psychology of Religion
The Social Truth of Religion
Religious Gender Inequality
Mormon Women's History, Resistance, and Activism
Person-Centered & Evidence Based Research & Design
Links
---
Related Speakers View all
---
Robin Morgan

Poet, Activist & Founder of Contemporary Feminism

Roxane Gay

Author of Famous Novels "Bad Feminist" and "Untamed ...

Gloria Steinem

Feminist Writer, Activist & Organizer

Alyson McGregor

Women's Health Pioneer; Co-Founder and Director of S...

Lena Dunham

Filmmaker and Actress known for "Tiny Furniture" & H...

Amy Schumer

Comedian, Actress, and Writer

Rashida Jones

Film & Television Actress; Best Known for Roles in "...

Salma Hayek

Mexican and American Film Actress, Director and Prod...

Gloria Feldt

Leading Activist & Best-Selling Author

Eileen Pollack

Director of the Master of Fine Arts Program at the U...

Brianna Wu

Video Game Developer, Blogger, and Podcaster; Creato...

Hanne Blank

Author of "Straight," "Virgin" and "Big Big Love"

Loretta Ross

Founder, SisterSong Women of Color Reproductive Heal...

Shelby Knox

Sex Education Advocate

Staceyann Chin

Spoken Word Poet, Performing Artist and LGBT Rights ...

Suzanne Braun Levine

Former Editor of Ms.; Expert on Women and Aging

Carol Moseley Braun

First Female African-American United States Senator

Courtney E. Martin

Author, "Do It Anyway"; Activist

Sheryl Sandberg

COO of Facebook

Blair Imani

Executive Director of "Equality for HER" & Activist
More like Chelsea