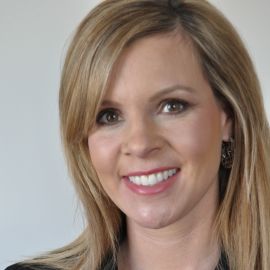 A nationally renowned social media and e-marketing whiz is a good start, but add award winning retailer/designer with a one-of-kind personality and you may be painting a more accurate picture. Christi understood the power of social media almost immediately and to say she became an early adopter would be putting it mildly. Her early days in the MySpace era brought the campaign, Can you spot the Dot? using the polka dotted H2 Hummer, named "Dottie" for Ambiance Interiors & Gifts in a national campaign.
Christi quickly realized that messages and marketing could be pushed forth instantly and conveyed at little or no cost... while engaging audiences near and far. Keeping up with the latest trends on the social forefront has allowed Christi opportunities to conduct business with industry leaders worldwide and gain the respect of companies such as Facebook and Google.
Christi began her consulting firm, PuTTin' OuT (Socially Accepted.) where she speaks and teaches audiences the power of networking, how to use social media to benefit their clientele, but most importantly, have a positive impact on the bottom line of businesses everywhere!
Today, Christi's clientele consists of worldwide brands such as International Market Centers (IMCenters.com), World Market Center Las Vegas (www.WMCLV.com), AmericasMart (www.AmericasMart.com), SnapRetail (www.SnapRetail.com). Inquire for others if necessary.
Videos
---
Related Speakers View all
---
Matthew Evans
LisaVanAllen

The Biz Doctor with prescriptions for your success!

Grant D. Fairley

Keynote Speaker, Group Facilitator, Seminar & Worksh...

Gillian Muessig

Thought Leader in Global Entrepreneurship

Mark A. Roosevelt
Roberto Alas

Reaching and identifying the potential in every sing...

Marty Metro

Innovator, Thought-leader, Eco-entrepreneur, CEO

Adora Svitak

Writer, Speaker, Education Advocate, and Child Prodigy

Candace Reese

The CEO Pundit: Empowerment Speaker, Inspirational C...

Alan Berg

A leader in the field of marketing to brides for loc...

Crystal Gifford

Awarded Speaker, Best Selling Author, Professor, Men...

Amy Magyar (Coach)

The Benefits of a Coach Without the Annoying Whistle.

Dr. Lisa Van Allen

The Biz Doctor helping transformational leaders find...

Marty Stratton

Entrepreneur Spirited Speaker; Driven for Your Success!

Micah Solomon
Alex Navas

Guiding entrepreneurs to create passionate, profitab...

Nicholas de Wolff

Startup Advisor, Executive Leader, Business Strategy...

Sherri Henley

Author, Expert in Speaking, Social Media Intelligenc...

Joseph Covelle

Speaking From the Heart To Help Change Minds

Mak Man

Dynamic Motivational Speaker and Published Author . ...
More like Christi