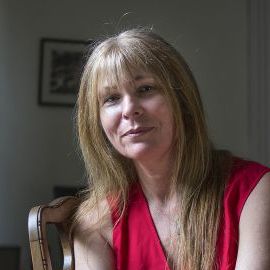 Clare Rewcastle Brown is a British investigative journalist. Born in the former British Crown Colony of Sarawak (now part of Malaysia), she is the founder of Sarawak Report and Radio Free Sarawak which are openly critical of the Barisan Nasional-led state government of Sarawak.
During a visit to Sarawak in 2005 to speak at an environment conference, Rewcastle Brown was asked by local journalists and activists to help publicize the deforestation in the state. However, when she began probing into the issue, she became blacklisted from the state and received death threats.
In February 2010, she founded Sarawak Report, a blog seeking to highlight the destruction of Sarawak's tropical rainforests for profit and alleged corruption by the state government led by Chief Minister Abdul Taib Mahmud. Sarawak Report alleges that Taib and his family have profited from the land taken away from Sarawak's indigenous communities and have multiplied their wealth in assets and properties across the world.
In December that year, Rewcastle Brown also set up Radio Free Sarawak to broadcast her findings on the radio to local Sarawakians. Radio Free Sarawak's DJ is Peter John Jaban, who was fired by one of Sarawak's state-controlled radio stations for allowing callers to criticize Taib. Brown met Jaban in 2008 while reporting on a by-election in Sarawak and invited him to become the voice of Radio Free Sarawak in London.
Before February 2011, Sarawak Report and Radio Free Sarawak operated anonymously. However, Rewcastle Brown and Jaban decided to go public after one of her informants, a former Taib aide, was found dead. Ross Boyert, who used to head Taib's supposed real estate arm in the United States, was found dead in a Los Angeles hotel room with a plastic bag around his head in September 2011. Boyert had claimed that he and his family had been harassed since he filed a lawsuit against the real estate company in 2007.
During the period leading up to the April 2011 Sarawak election, Rewcastle Brown said Sarawak Report was forced to constantly switch its address after an onslaught of cyber attacks. She blamed the ruling Barisan Nasional for the disruption. She also claimed that Radio Free Sarawak's signal was jammed by an agent hired to broadcast at the same frequency as the station. Rewcastle Brown worked closely with opposition politicians during the election, including Baru Bian.
Malaysian Deputy Information Communication and Culture Minister Joseph Salang Gandum called Radio Free Sarawak illegal as it was not licensed with the Malaysian Communications and Multimedia Commission.[10] In March 2011, Taib's party, Parti Pesaka Bumiputera Bersatu (PBB), filed a police report against Radio Free Sarawak.
Click Here to register and get pricing on booking Clare Rewcastle Brown for your next event!
Videos
---
Get notified of new talks and events.
Follow
Related Speakers View all
---
Mel H. Abraham

He has a riveting presence, created by his absolute ...

Milt Abel

Milt Abel is a corporate-clean stand-up comedian tha...

Mike Abrashoff

Former Commander of USS Benfold and Author of "It's ...

J.J. Abrams

Director, Producer, Writer, Author; Known for His Wo...

Melvin Adams

Former Harlem Globetrotter with a Passion for Reachi...

Kirk Acevedo

Actor Best Known for His Roles on "Dexter," "Band of...

Jose Antonio Abreu

Founder of El Sistema, Which Helps Venezuelan Childr...

Carol Adelman

Carol Adelman is a senior fellow and director of Hud...

Newton Aduaka

Newton Aduaka's award-winning Ezra, told through the...

Janus Adams

Award-Winning Journalist

Jenoyne Adams

African-American Novelist.

Khandi Alexander

Khandi Alexander (born September 4, 1957) is an Amer...

Shaun Alexander

NFL Great

Laila Ali

Undefeated 4 Time World Champion Boxer 24-0 with 21 ...

Alan Alda

Actor, Writer, Science Advocate, and Director

Adewale Akinnuoye-Agbaje

Fashion Model & Actor Known for "Lost," "Oz" & "Suic...

Jane Alexander

Actress and Former Director of the National Endowmen...

Bruce Aitken

Bruce Aitken was born in Invercargill New Zealand wh...

Gary Aldrich

On Independence Day, 1996, former FBI Agent Gary Ald...

Marilyn Albert

Dr. Marilyn Albert received her PD degree in Physiol...
More like Clare