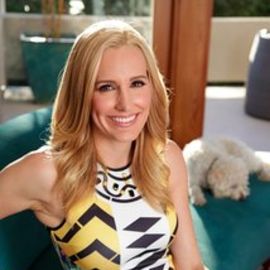 Award winning on air talent & producer Crystal Fambrini is an experienced and multifaceted storyteller whose body of work includes live presenting on cutting edge beauty, fashion and style trends, in depth reporting on current political and environmental stories, sharing inspiring profiles on new age entrepreneurs, and reporting from the biggest entertainment events in the world. Her energetic, friendly and smart demeanor is a natural fit for live programming, allowing hundreds of successful bookings on west coast local news stations. Also appearing on national and international outlets like NBC, FOX, MTV, E!, Current TV, Sundance Channel, Spike TV, USA, CBC Canada and Canale 5 Italy. Her producing work includes short form content, lifestyle programming, and sporting events for network, cable and pay per view outlets.
Crystal began her career working for her mentor, the legendary anchor Peter Jennings, during her time at ABC News' World News Tonight. ABC News allowed her to travel all over the country taking part in stories – from helping Jennings on the floor of the Democratic National Convention in Los Angeles to interviewing Senators in their offices in Washington D.C. to visiting Air Force camps up and down the East Coast for the "It's Your Money" investigative unit. She continues to follow Jenning's invaluable advice to "make your own way" in the industry through every step of her career.
Al Gore's Current TV, a hybrid of MTV News meets CNN for the 18 to 34 market, gave Crystal the ideal platform to shine allowing her the creative freedom to produce educational and entertaining content. For 3 years, Crystal worked as a daily studio host and reporter and producer traveling the country executing short form docu style programming. While at Current, Crystal was the first to feature stories on Blake Mycoskie of Tom's Shoes, Scott Harrison of Charity Water and Shepard Fairey of Obey, helping the network to earn a Primetime EMMY for Best Interactive Television Service. She also personally received 5 TELLY Awards and a Worldfest REMI for her Current TV productions.
Crystal went on to land a reporter contract with the #1 cable news outlet, Fox News Channel, which had her covering Hollywood and took her to New York to appear live on air with lively roundtable discussion on current hot topics, like universal health care. Among the first to create Flip video segments on a major news outlet, her producing and reporting for FNC with her "Crystal Cam" entertainment beat caught the attention of Harpo Productions who licensed her work to appear on The Oprah Winfrey Show, seeing her ability to produce, shoot, report and package a complete story using just a small handheld recorder.
As a E! News entertainment reporter, Crystal interviewed celebrities on camera, wrote her packages immediately after and then sat with editors to make deadlines for the daily show. Crystal also worked jointly for The Hollywood Reporter and AP News, and became the first livesteam host of San Dieg Comic-Con International where she appeared on camera live for hours interviewing a plethora of celebrities each day of the action packed event. Her entertainment reporter coverage took her to the Cannes Film Festival in France, the Oscars in Hollywood and the Sundance Film Festival in Park City, Utah. The list of celebrities she has personally interviewed is endless and includes Robert Redford, Jim Carrey, Samuel L. Jackson, Ben Affleck, Larry King, 50 Cent, Justin Timberlake, Ashton Kutcher, Demi Moore, Diane Keaton, Jennifer Aniston, Adrien Brody, Emily Blunt, Susan Sarandon, Kiera Knightley, and Reese Witherspoon.
In Los Angeles, Crystal worked on KNBC's Your LA as a studio and field host and, over the course of seven years, on CW Channel 5's The KTLA Morning News. She co-created the very popular on going sweep series "KTLA Stranger ChangeHer" that profiled a deserving viewer and treated them to a one day beauty, fashion and confidence make over and then on live tv revealed their new look to their overjoyous family, friends, and coworkers.
As an extreme sports host and producer on syndicated programs like Planet X, X Corps, and Adrenalina, Crystal had a fantastic time traveling to surf events, skateboard competitions, and snowboard expos.
Click Here to register and get pricing on booking Crystal Fambrini for your next event!
Videos
---
Get notified of new talks and events.
Follow
Related Speakers View all
---
Mel H. Abraham

He has a riveting presence, created by his absolute ...

Milt Abel

Milt Abel is a corporate-clean stand-up comedian tha...

Mike Abrashoff

Former Commander of USS Benfold and Author of "It's ...

J.J. Abrams

Director, Producer, Writer, Author; Known for His Wo...

Melvin Adams

Former Harlem Globetrotter with a Passion for Reachi...

Kirk Acevedo

Actor Best Known for His Roles on "Dexter," "Band of...

Jose Antonio Abreu

Founder of El Sistema, Which Helps Venezuelan Childr...

Carol Adelman

Carol Adelman is a senior fellow and director of Hud...

Newton Aduaka

Newton Aduaka's award-winning Ezra, told through the...

Janus Adams

Award-Winning Journalist

Jenoyne Adams

African-American Novelist.

Khandi Alexander

Khandi Alexander (born September 4, 1957) is an Amer...

Shaun Alexander

NFL Great

Laila Ali

Undefeated 4 Time World Champion Boxer 24-0 with 21 ...

Alan Alda

Actor, Writer, Science Advocate, and Director

Adewale Akinnuoye-Agbaje

Fashion Model & Actor Known for "Lost," "Oz" & "Suic...

Jane Alexander

Actress and Former Director of the National Endowmen...

Bruce Aitken

Bruce Aitken was born in Invercargill New Zealand wh...

Gary Aldrich

On Independence Day, 1996, former FBI Agent Gary Ald...

Marilyn Albert

Dr. Marilyn Albert received her PD degree in Physiol...
More like Crystal