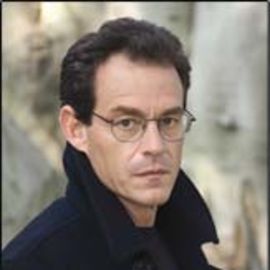 He has been placed in the same category as John le Carré and Graham Greene. He has been called his generation's finest writer of international intrigue and one of the greatest American spy novelists ever. Compelling, passionate, haunting, and brilliant: these are the words that have been used to describe the work of Daniel Silva.
Silva is The New York Times best-selling author of 15 books, including The Kill Artist, The Mark of the Assassin, Moscow Rules, Portrait of a Spy, and his most recent, The Fallen Angel. Highly regarded as the "preeminent espionage novelist," he lures readers into his world of intrigue, danger, corruption and power–a world not much different from ours today.
A self-proclaimed intelligence buff who lived a life of excitement as former foreign correspondent on the Middle East for UPI, Silva has traveled to many remote regions of the globe. Making the transition from journalist to author fueled his craft, affording him the skills and knowledge to create provoking thrillers that reflect contemporary events.
Combining unlikely secret agents, multidimensional villains, and well-researched backgrounds with intense and electrifying storytelling, Silva is a writer who masters the delicate art of espionage with a deft touch. His works bring to life international intrigue in ways that are as realistic as they are riveting.
Click Here to register and get pricing on booking Daniel Silva for your next event!
Videos
---
Speech Topics
---
An Evening with Espionage Author Daniel Silva
The Undercover Life of an Espionage Writer
Where Do You Get Your Ideas? I Could Tell You but Then I'd Have to Kill You
Get notified of new talks and events.
Follow