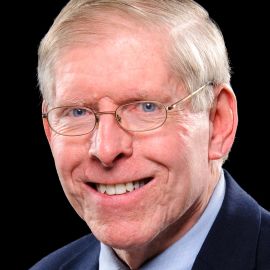 Dave deBronkart, better known on the Internet as "e-Patient Dave," may be the leading spokesperson for the e-patient movement – e-patients are Empowered, Engaged, Equipped, and Enabled. A high-tech executive and online community leader for many years, he was diagnosed in 2007 with Stage IV kidney cancer, with a median survival of just 24 weeks. He used the Internet in every way possible to partner with his care team and beat this unbeatable disease. Today he is well.
In 2008 he discovered the e-patient movement, and began studying, blogging, and speaking at conferences. In 2009, he was elected founding co-chair of the new Society for Participatory Medicine. He was a leading voice in Washington for the new federal regulations to require that patients and families have access to their electronic medical records, and is now engaged full-time in speaking and advocating for patient engagement.
He's appeared in Time, US News, and the Health Leaders magazine cover story "Patient of the Future." In December Health Leaders named him – and his doctor – to their annual list of "20 People Who Make Healthcare Better," and in 2010 he released his first book, Laugh, Sing, and Eat Like a Pig: How an Empowered Patient Beat Stage IV Cancer (and What Healthcare Can Learn from It).
Speech Topics
---
Patient Engagement / Patient Empowerment
Laugh, Sing & Eat Like a Pig
A program based on Dave's book of the same name revealing how an Empowered Patient Beat Stage IV Cancer (and what healthcare can learn from it). Motivational and Inspirational.
Healthcare Transformation
Meaningful Use (health IT) and personal health records
Related Speakers View all
---
Dan Buettner

National Geographic Writer, Renowned Explorer and Au...

Dr. Mehmet Oz

Renowned Doctor, Host of "The Dr. Oz Show," Profess...

Christine Dumas

Medical and Lifestyle Reporter and Author

Igor Beuker

Professional Keynote Speaker & Host with 1,000 talks...

Amanda Gore

Psychologist; Expert in Emotional Intelligence and P...

Dr. Jill Bolte Taylor

Scientist and Author of "My Stroke of Insight: A Bra...

Mark Victor Hansen

Founder and Author of Chicken Soup for the Soul Book...

Matthew Kelly

Best-Selling Author & Motivational Coach

John Nance

Authority on Patient Safety & Quality of Care & Atto...

Joe Sabia

Head of Development at Conde Nast Entertainment, Dir...

Shawn Achor

Harvard Researcher and Positive Psychology Expert

Adora Svitak

Writer, Speaker, Education Advocate, and Child Prodigy

Dr. Will Miller

Educator / Psychotherapist / Author / Humorist

Clayton Christensen

Foremost Authority on Innovation and Father of Disru...

Peter Diamandis

Chairman and CEO, X PRIZE Foundation; Author

Nicholas de Wolff

Startup Advisor, Executive Leader, Business Strategy...

Murray Banks

Triathlon Champion / Motivator

Dan Ariely

Behavioral Economist, Professor at Duke University, ...

Diana Nyad

First Person to Successfully Swim from Cuba to Flori...

James Mapes

Expert on the Psychology of "Applied Imagination"
More like Dave