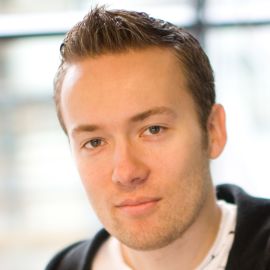 David Heinemeier Hansson is a Danish programmer and the creator of the Ruby on Rails open source web development framework. He is also a partner with Jason Fried at the web-based software development firm 37signals. In 2005 he was given with the Hacker of the Year by Google and O'Reilly award for his creation of Ruby on Rails. He and Fried have also co-authored the New York Times bestseller "Rework," which reveals their secrets for boosting business productivity in the Internet age.
Click Here to register and get pricing on booking David Heinemeier Hansson for your next event!
Get notified of new talks and events.
Follow
Related Speakers View all
---
Jason Fried

Founder and CEO of Basecamp

Peter Diamandis

Thought-leader & Founder and Chair of the X Prize Fo...

Jimmy Wales

Co-founder of Wikipedia and Mobile Phone Carrier The...

Peter Thiel

Former CEO and Co-founder of PayPal; Technology Entr...

Gary Vaynerchuk

Co-Founder & CEO, VaynerMedia

Rebecca MacKinnon

Journalist and Policy Activist on Internet and Digit...

David Pogue

Host of NOVA ScienceNow & Yahoo Tech Columnist

Clay Shirky

Expert on New Technology and Social Media, and How T...

Graham Hill

Founder, Life Edited

Majora Carter

Urban Revitalization Strategist

Eric Ries

Entrepreneur & Author of "The Lean Startup"

Peter Guber

CEO and Founder of Mandalay Entertainment; Golden St...

Ray Kurzweil

Chairman, Kurzweil Technologies & A Director of Engi...

Dan Ariely

Best-selling Author, "The (Honest) Truth About Disho...

Esther Dyson

Chairman and Founder of HICCup (Health Initiative Co...

Jane McGonigal

Game Designer, Inventor of SuperBetter and Author of...

Jonathan Zittrain

Renowned Authority on Future of the Internet; Harvar...

Parag Khanna

The World's Leading Geo-Strategist; Author of Second...

Arianna Huffington

Former President & Editor-in-Chief of The Huffington...

Alec Ross

Author of "The Industries of the Future," and Recen...
More like David