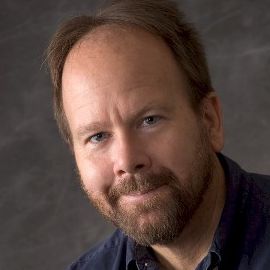 Devin Brown
Tolkien Scholar and English Professor at Asbury University; Author of "The Christian World of The Hobbit"
Dr. Devin Brown is a Lilly Scholar and Professor of English at Asbury University where, in addition to other literature classes, he teaches a course on Lewis and Tolkien. He holds a Ph.D. from the University of South Carolina and a Master's degree in creative writing from the University of Florida. He has done further study at Oxford University and University College Dublin.
His most recent book is "Tolkien: How an Obscure Oxford Professor Wrote The Hobbit and Became the Most Beloved Author of the Century." Just before that he published "A Life Observed: A Spiritual Biography of C. S. Lewis" and "Hobbit Lessons: A Map for Life's Unexpected Journeys." In 2012 he published "The Christian World of The Hobbit." In addition, he was a contributor to "The C. S. Lewis Bible" and "The Screwtape Letters: The Annotated Edition." In 2008 he served as Scholar-in-Residence for the Summer Seminar held at The Kilns, the Oxford home of C. S. Lewis.
Dr. Brown has written numerous essays and scholarly articles on C. S. Lewis and J. R. R. Tolkien and has been invited to write chapters for six books, including a major chapter on The Screwtape Letters for the 4-volume series C. S. Lewis: Life, Works, and Legacy released by Praeger Publishers in 2007.
Dr. Brown's first book "Inside Narnia: A Guide to Exploring The Lion, the Witch and the Wardrobe" came out in 2005 and is currently in its sixth printing. His second Narnia book, "Inside Prince Caspian," was released in 2008. His third Narnia book, "Inside the Voyage of the Dawn Treader," came out in 2010.
He has presented scholarly papers on Lewis and Tolkien at many venues including Oxford, London, the University of Wroclaw in Poland, the University of Kentucky, Belmont University, Wheaton College, the University of Louisville, and the University of Surrey in England. He has served as Visiting Writer-in-Residence at Transylvania University.
Dr. Brown has been a featured author for the Kentucky Reading Project, the Kenutucky Book Fair, the Delaware Book Fair, the Ohio River Festival of Books, the Bluegrass Festival of Books, the Clarksville Writers' Conference, the Southern Kentucky Book Fest, and the Kentucky Writing Project. He has been an invited speaker at the Ichthus Music Festival.
He has been a keynote or plenary speaker at conferences at Calvin College, Asbury Seminary, Huntington University, Grace College, St. Catherine College, and Taylor University. In 2011 he was a headliner at The C. S. Lewis Festival. He has been a Convocation Speaker at Milligan College and Lexington Theological Seminary. In 2010 he was invited to appear on the Narnia Summit Panel with Michael Apted, Micheal Flaherty, and Douglas Gresham which was held in the Zanuck Theater at the 20th Century Fox Studios in Los Angeles.
His novel for young people "Not Exactly Normal" was published by Eerdmans Books for Young Readers in 2005, with the paperback edition coming out in 2006. It has been named a Children's Book Council Notable Social Studies Book and has been listed on Bank Street College Best Children's Books of the Year. He is frequently invited to appear as guest author at schools which have used "Not Exactly Normal" in their classrooms. He is listed in Contemporary Authors and in Book Letters.
Dr. Brown has been a judge for Christianity Today's Book of the Year Award. He has served as a Consulting Editor for Irish Studies Review. He is a recipient of The Francis White Ewbank Award, Asbury's highest honor for teaching.
He has published original poetry in literary journals, among them Connecticut Review, Wind, The Chaffin Review, South Carolina Review, Cold Mountain Review, The Cumberland Poetry Review and the Journal of Kentucky Studies.
In winter of 2007, Dr. Brown was part of the Asbury University team that produced the Educational Resources DVD to accompany the film "Amazing Grace," a Walden Media production which told the story of the campaign led by William Wilberforce to abolish the slave trade in England. In 2013 he was again part of an Asbury University documentary team--this time helping to produce the video C. S. Lewis: Why He Matters Today. Recently he wrote the script for "The Hound of Heaven: The Story of Francis Thompson" released by Emblem Media in 2014.
Dr. Brown was born and grew up on Chicago's south side. He and his wife, Dr. Sharon Brown, live in Lexington, Kentucky with their 15-pound cat, Mr. Fluff.
Related Speakers View all
---
Yolanda Conyers

Diversity and Global Leadership Expert at Lenovo

Lois J. Zachary

Internationally Recognized Expert on Mentoring; Cite...

Tanveer Naseer

Founder of TanveerNaseer Leadership, Writer, Speaker...

Mark Payne

Co-Founder and President of Fahrenheit 212; Author o...

Judith Humphrey

Founder and Chief Creative Officer of The Humphrey G...

Jake Halpern

Author, Journalist and Radio Producer; "Bad Paper: C...

Steve Shallenberger

Professional Speaker and Author of "Becoming Your Be...

W. Bruce Cameron

Author Of The Book "8 Simple Rules for Dating My Tee...

Gregory Bernarda

Thinker, Creator and Facilitator; Co-Author of "Valu...

Lee Caraher

Recognized Communications Strategist, Millennial Exp...

Roxi Bahar Hewertson

President & CEO Highland Consulting Group, Inc.; Aut...

Michel Faber

Dutch-born Writer of Fiction, Best Known For His Nov...

Jonathan Carroll

Author of Suspense and Thriller Novels

Robert M. Poole

Author and Contributor of Smithsonian and National G...

John A. Nagl

US Army Veteran, Author and Headmaster of The Haverf...

Eve Tushnet

Devout Catholic and LGBT Advocate

Jovi Brown

Authority on leadership, motivation, communication

Lee P. Brown

Lee Brown's life in itself is an inspiration.

Marlene Brown

Internationally recognized keynote speaker, Seminar ...

Roger Aaron Brown

Roger Aaron Brown is an African-American character a...
More like Devin