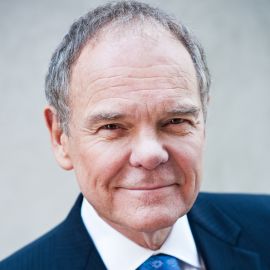 Don Tapscott
Senior Adviser, World Economic Forum; Author, "The Digital Economy"; Co-author, "Macrowikinomics" and "Wikinomics"
Don Tapscott is an adjunct professor of management at University of Toronto's Rotman School of Management and an authority on innovation, media, and the economic and social impact of technology. He has authored or co-authored 15 books, including Macrowikinomics; Paradigm Shift; Growing Up Digital; and Wikinomics. In 2012, Tapscott opened TEDGlobal, and his talk, "4 Principles for the Open World," has been viewed more than 500,000 times. In 2013, Thinkers50 listed him as the fourth most influential management thinker and awarded him the Global Solutions Award. He is a Martin Prosperity Institute Fellow and a chancellor of Trent University.
Click Here to register and get pricing on booking Don Tapscott for your next event!
Speech Topics
---
Jazz and the New Models of the Enterprise
Beyond Wiki Revolutions to Democratic, Secular Governments
Addressing the Coming Worldwide Generational Conflict
Kick-starting Job Creation
Overcoming the Inability of International Organizations to Solve 21st Century Problems
Corporations in the Age of Hyper-Transparency
Privacy in the Age of Facebook
The Demise of the Newspaper and the Rise of the New News
How More Musicians can Earn a Living in the Age of MP3s
Ending the Government Debt Crisis
Transforming the Universities
Urban Intelligence: Achieving Smart Connected Cities
Rethinking Business Processes for an Age of Networked Intelligence
Grown Up Digital: How the Net Generation is Changing Your World
Government 2.0: Wikinomics, Government and Democracy
Winning with the Enterprise 2.0
Trust and Competitiveness in the Age of Transparency
Macrowikinomics: Rebooting Business and the World
Reinventing Healthcare for the Age of Collaboration
Rethinking the Media for the Age of Collaboration
Leadership and Collective Intelligence
Rethinking Science for the Age of Collaboration
Social Media and Competitive Advantage
Fighting Climate Change in the Age of Networked Intelligence
Surviving and Thriving Times—Now is the Time to Innovate
Web 2.0: How Mobile, Pervasive, Network Computing is Transforming Business
Get notified of new talks and events.
Follow
Related Speakers View all
---
Clayton Christensen

Foremost Authority on Innovation and Father of Disru...

Ray Kurzweil

Chairman, Kurzweil Technologies & A Director of Engi...

Peter Diamandis

Thought-leader & Founder and Chair of the X Prize Fo...

Andrew McAfee

Associate Director and Principal Research Scientist,...

Clay Shirky

Expert on New Technology and Social Media, and How T...

Arianna Huffington

Former President & Editor-in-Chief of The Huffington...

Roger Martin

Premier's Research Chair in Productivity and Competi...

Richard Florida

Renowned Economist and Author, The Rise of the Creat...

Michael Porter

Foremost Authority on Strategy, Competition and Comp...

Tony Hsieh

CEO of Zappos

Gary Vaynerchuk

Co-Founder & CEO, VaynerMedia

Gary Hamel

Authority on Strategic and International Management

Malcolm Gladwell

Bestselling Author, "What the Dog Saw," "Outliers," ...

Parag Khanna

The World's Leading Geo-Strategist; Author of Second...

John Maeda

Design Partner, Kleiner Perkins Caufield & Byers; W...

Jimmy Wales

Co-founder of Wikipedia and Mobile Phone Carrier The...

Jeff Jarvis

Journalist & Media Expert

Peter Thiel

Former CEO and Co-founder of PayPal; Technology Entr...

Guy Kawasaki

Chief Evangelist of Canva, a Graphics-Design Online ...

Eric Schmidt

Executive Chairman & Former CEO, Google
More like Don