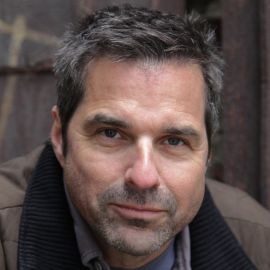 Don Wildman
Host, Travel Channel's "Mysteries at the Museum" & "Mysteries at the Monument"
For the past two decades, Don Wildman has built his reputation as a television explorer investigating historical mysteries at home and abroad. As host and narrator of Travel Channel's long-running hit series, Mysteries at the Museum, he escorts his audience to institutions iconic and obscure, searching out the amazing artifacts and relics from civilization's most fascinating and unlikely events.
The series' remarkable success has led to spinoffs--Mysteries at the Monument and Greatest Mysteries. His earlier work on Travel Channel's Off Limits and History's Cities of the Underworld also established Wildman's mission to climb down into most any secluded space if it means heightening his viewers' understanding of the story being told.
If he hadn't landed on television, Wildman would likely be teaching in a classroom. Education is at the heart of all his projects and he works off-camera across the country encouraging young and old to more fully utilize and support their local museums and historic sites, deepening their knowledge of the extraordinary world around them.
Don Wildman was born to explore—which is lucky. It's what he does every week on television.
Related Speakers View all
---
Mike Rayburn

Thought Leader; Artist and Entertainer

Robert Ballard

Renowned Ocean Explorer and Scientist

Amanda Gore

Psychologist; Expert in Emotional Intelligence and P...

John Cleese

British Comedic Actor, Screenwriter and Co-founder o...

Jake Roper

YouTube Personality aka Vsauce2 Filmmaker, Science C...

Amanda Russell

Fitness and Lifestyle Writer; Olympic-trained Athlet...

Ravi Hutheesing

Global Keynote Speaker | Empowering education and bu...

Raspyni Brothers

Guinness Record-Holding Juggling Team

The Second City

Legendary Comedy Troupe

Julie Burstein

Peabody Award-Winning Radio Producer, Bestselling Au...

Adora Svitak

Writer, Speaker, Education Advocate, and Child Prodigy

Joel Zeff

Stand-up Comedian, Author and Polished Professional ...

Benjamin Zander

Conductor, Teacher, Speaker on The Art of Possibility

Erik Wahl

Internationally Recognized Graffiti Artist, Entrepre...

Twyla Tharp

Choreographer & Creativity Cultivator

Neal Petersen

Adventurer, Author, World- Class Motivational Speaker

Daymond John

Branding Visionary & Founder of FUBU; Investor on AB...

Robin Crow

CEO & Founder of Dark Horse Recording

Ken Burns

Historian and Award-Winning FilmMaker

Boris Brott

Internationally Recognized Symphony Conductor and Mo...
More like Don