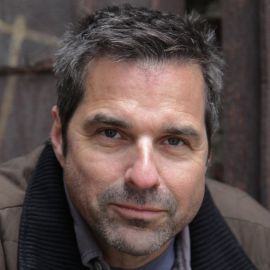 Don Wildman
Host, Travel Channel's "Mysteries at the Museum" & "Mysteries at the Monument"
For the past two decades, Don Wildman has built his reputation as a television explorer investigating historical mysteries at home and abroad. As host and narrator of Travel Channel's long-running hit series, Mysteries at the Museum, he escorts his audience to institutions iconic and obscure, searching out the amazing artifacts and relics from civilization's most fascinating and unlikely events.
The series' remarkable success has led to spinoffs--Mysteries at the Monument and Greatest Mysteries. His earlier work on Travel Channel's Off Limits and History's Cities of the Underworld also established Wildman's mission to climb down into most any secluded space if it means heightening his viewers' understanding of the story being told.
If he hadn't landed on television, Wildman would likely be teaching in a classroom. Education is at the heart of all his projects and he works off-camera across the country encouraging young and old to more fully utilize and support their local museums and historic sites, deepening their knowledge of the extraordinary world around them.
Don Wildman was born to explore—which is lucky. It's what he does every week on television.
Click Here to register and get pricing on booking Don Wildman for your next event!
Get notified of new talks and events.
Follow
Related Speakers View all
---
Mel H. Abraham

He has a riveting presence, created by his absolute ...

Milt Abel

Milt Abel is a corporate-clean stand-up comedian tha...

Mike Abrashoff

Former Commander of USS Benfold and Author of "It's ...

J.J. Abrams

Director, Producer, Writer, Author; Known for His Wo...

Melvin Adams

Former Harlem Globetrotter with a Passion for Reachi...

Kirk Acevedo

Actor Best Known for His Roles on "Dexter," "Band of...

Jose Antonio Abreu

Founder of El Sistema, Which Helps Venezuelan Childr...

Carol Adelman

Carol Adelman is a senior fellow and director of Hud...

Newton Aduaka

Newton Aduaka's award-winning Ezra, told through the...

Janus Adams

Award-Winning Journalist

Jenoyne Adams

African-American Novelist.

Khandi Alexander

Khandi Alexander (born September 4, 1957) is an Amer...

Shaun Alexander

NFL Great

Laila Ali

Undefeated 4 Time World Champion Boxer 24-0 with 21 ...

Alan Alda

Actor, Writer, Science Advocate, and Director

Adewale Akinnuoye-Agbaje

Fashion Model & Actor Known for "Lost," "Oz" & "Suic...

Jane Alexander

Actress and Former Director of the National Endowmen...

Bruce Aitken

Bruce Aitken was born in Invercargill New Zealand wh...

Gary Aldrich

On Independence Day, 1996, former FBI Agent Gary Ald...

Marilyn Albert

Dr. Marilyn Albert received her PD degree in Physiol...
More like Don