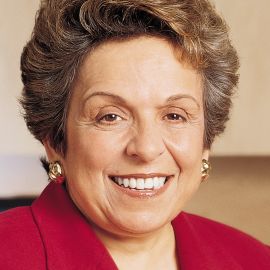 Donna E. Shalala became professor of Political Science and president of the University of Miami on June 1, 2001. Shalala has more than 40 years of experience as an accomplished scholar, teacher and administrator.
Born in Cleveland, Ohio, Shalala received her A.B. degree in history from Western College for Women and her Ph.D. degree from The Maxwell School of Citizenship and Public Affairs at Syracuse University. She has held tenured professorships at Columbia University, the City University of New York (CUNY) and the University of Wisconsin - Madison. She served as president of Hunter College of CUNY from 1980 to 1987 and as chancellor of the University of Wisconsin-Madison from 1987 to 1993. One of the country's first Peace Corps volunteers, she served in Iran from 1962 to 1964.
In 1993, President Clinton appointed her U.S. Secretary of Health and Human Services (HHS) where she served for eight years, becoming the longest serving HHS Secretary in U.S. history. At the beginning of her tenure, HHS had a budget of nearly $600 billion, which included a wide variety of programs including Social Security, Medicare, Medicaid, Child Care and Head Start, Welfare, the Public Health Service, the National Institutes of Health (NIH), the Centers for Disease Control and Prevention (CDC) and the Food and Drug Administration (FDA).
As HHS Secretary, she directed the welfare reform process, made health insurance available to millions of children through the approval of all State Children's Health Insurance Programs (SCHIP), raised child immunization rates to the highest levels in history, led major reforms of the FDA's drug approval process and food safety system, revitalized the National Institutes of Health and directed a major management and policy reform of Medicare. At the end of her tenure as HHS Secretary, The Washington Post described her as "one of the most successful government managers of modern times." In 2007, President George W. Bush handpicked Shalala to co-chair with Senator Bob Dole the Commission on Care for Returning Wounded Warriors, to evaluate how wounded service members transition from active duty to civilian society.
As chancellor of the University of Wisconsin-Madison, she led what was then the nation's largest public research university. In 1992, BusinessWeek named her one of the top five managers in higher education.
She served in the Carter administration as assistant secretary for Policy Development and Research at the U.S. Department of Housing and Urban Development. In 1980, she assumed the presidency of Hunter College of the City University of New York.
She is a director of MEDNAX, Inc.
Shalala has more than four dozen honorary degrees and a host of other honors, including the 1992 National Public Service Award, the 1994 Glamour magazine Woman of the Year Award and in 2005 was named one of "America's Best Leaders" by U.S. News & World Report and the Center for Public Leadership at Harvard University's Kennedy School of Government.
She has been elected to the Council on Foreign Relations; National Academy of Education; the National Academy of Public Administration; the American Academy of Arts and Sciences; the National Academy of Social Insurance; the American Academy of Political and Social Science; the Institute of Medicine of the National Academy of Sciences; The American Philosophical Society and serves as a Distinguished Fellow at the Brookings Institution. In June 2008, President Bush presented Shalala with the Medal of Freedom-the nation's highest civil award.
Videos
---
Speech Topics
---
Remarks by Donna Shalala
Donna Shalala brings a lifetime of experience to audiences around the world. She speaks about leadership, healthy living, medical breakthroughs, and the influence of the political process on individual lives. Her presentations address a wide range of topics according to your audience's needs, including:
Management of Large Organizations
Health Care Reform
Leadership
Biomedical Research
Health and Welfare of Children
Related Speakers View all
---
Janet Reno

Attorney General of the United States, from 1993 to ...

Bill Clinton

Former President of the United States (1992 - 2000)

Larry Coker

Larry Coker is a head football coach who led the Mia...

Sandra Fluke

Social Justice Advocate and Women's Health Expert

Chelsea Clinton

Daughter of Bill and Hillary Clinton; Clinton Founda...

Barry Alvarez

Director of Athletics and Retired Head Football Coac...

Frank Haith

Men's Basketball Head Coach for the Tulsa Golden Hur...

Julio Frenk

Eminent Authority on Global Health Who Served as the...

Al Golden

Al Golden, the University of Miami's 22nd head footb...

Butch Davis

Entering his second season at North Carolina's head ...

Fred Upton

Member, US House of Representatives (R-MI)

Tommy Thompson

Secretary of Health and Human Services (2001-2005)

David Satcher, M.D., Ph.D.

16th US Surgeon General

Meighan Stone

President of The Malala Fund; Humanitarian Advocate

Khalida Brohi

Women's Rights Activist and Entrepreneur; Executive ...

Asra Nomani

Journalist & Author, Women's Right's Activist

Seema Yasmin

Staff Writer, Dallas Morning News; Public Health Pro...

Michael Tutty

Group Vice President, Professional Satisfaction and ...

Wendy Taylor

Director, Center for Accelerating Innovation and Imp...

Louis W. Sullivan

Chairman of the Board, National Health Museum; Forme...
More like Donna