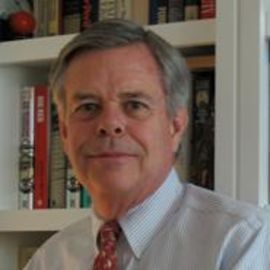 Doug Waller
Preeminent Journalist & Author.
Douglas Waller is a veteran correspondent, author, and lecturer. In almost two decades as a Washington journalist, he has covered the Pentagon, Congress, the State Department, the White House and the CIA.
Waller's new biography, Wild Bill Donovan: The Spymaster Who Created the OSS and Modern American Espionage is the eighth book he has authored or coauthored. Wild Bill Donovan is the result of meticulously researched government and private archives throughout the United States and England, thousands of pages of recently declassified documents, and interviews with scores of Donovan's relatives, friends, and associates. Waller presents a riveting biography of one of the most powerful men in modern espionage.
Waller's other books include the national best seller, The Commandos: The Inside Story of America's Secret Soldiers, and Air Warriors: The Inside Story of the Making of a Navy Pilot. His sixth book, BIG RED: The Three-Month Voyage Of A Trident Nuclear Submarine, was also a national best seller. A Question of Loyalty: Gen. Billy Mitchell and the Court-Martial that Gripped the Nation, is another of Waller's critically acclaimed biographies.
From 1994 to 2007, Waller served in TIME magazine's Washington Bureau, first as a correspondent then as a senior correspondent. At TIME, Waller covered foreign affairs extensively as a diplomatic correspondent, traveling throughout Europe, Asia and the Middle East as well as in the Persian Gulf region. He has reported extensively in the past on Middle East peace negotiations and the wars in Iraq. He came to TIME in 1994 from Newsweek, where he reported on major military conflicts from the Gulf War to Somalia to Haiti. Before joining Newsweek in 1988, he served as a legislative assistant on the staffs of Senator William Proxmire and Representative Edward J. Markey.
Related Speakers View all
---
J Michael Zenn

Wellness Expert & Author.

Xinran

Journalist, Author, & Expert on Chinese Women and Da...

Alice Wood

Personal Finance Mentor & Author.

Amy Wilentz

Award-winning Reporter and Expert on Haiti.

Susan Whitman-Helfgot

Author, Organ Donation Advocate, & Science Enthusiast.

Mark Whitaker

First African-American to Lead a National News Magaz...

Dr. Howard E. Wasdin

Former Member of SEAL Team Six.

Marlene Wallach

President, Wilhelmina Kids & Teens, one of the world...

Moises Velasquez-Manoff

Journalist and Author.

Lisa Unger

New York Times and Internationally Best-selling auth...

Jean Twenge

Psychologist & Expert on Generational Differences

Jennifer Gardner Trulson

Author, Philanthropist, and 9/11 Widow.

Rebecca Traister

Political & Cultural Journalist; Author of "Big Girl...

John Thorn

Official Historian for Major League Basebal.

Colm Toibin

Award-winning Irish Novelist, Short Story Writer, Es...

ReShonda Tate Billingsley

Award-winning Journalist and Best-selling Author.

Barry Strauss

Critically-Acclaimed Historian, Military Consultant ...

R.L. Stine

Record-Breaking, International Bestselling Author.

Susan Stiffelman

Author, Parenting Without Power Struggles: Raising J...

Daniel Smith

Bestselling Author, Journalist, & Neurotic.
More like Doug