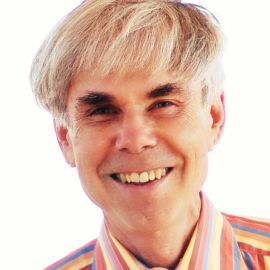 Douglas R. Hofstadter
Professor of Cognitive Science; Research Focuses on the Sense of "I," Consciousness, Analogy-Making and Discovery in Mathematics and Physics
Click Here to register and get pricing on booking Douglas R. Hofstadter for your next event!
Get notified of new talks and events.
Follow
Related Speakers View all
---
Ernesto Zedillo

President of Mexico (1994-2000)

Peter Sloterdijk

German Philosopher, Cultural Theorist, Television Ho...

Stephen Hawking

English Theoretical Physicist, Cosmologist, Author a...

Tariq Ramadan

Professor of Contemporary Islamic Studies in the Fac...

Guy Kawasaki

Chief Evangelist of Canva, a Graphics-Design Online ...

Thomas Friedman

Three-Time Pulitzer Prize Winning Commentator, New Y...

Francis Fukuyama

Global Affairs Thought-leader and Professor; Author ...

Murray Gell-Mann

Murray Gell-Mann started early. He entered Yale Univ...

Daniel Goleman

Internationally Recognized Psychologist & New York T...

Dr. Jane Goodall

Internationally Renowned Primatologist, Founder of t...

Al Gore

45th Vice President of the United States, Nobel Peac...

Jonathan Haidt

Psychologist, Widely Considered Expert in Psychology...

Daniel Kahneman

Eugene Higgins Professor of Psychology; Author, "Thi...

Garry Kasparov

World Champion Chess Expert and Strategist

Rem Koolhaas

Dutch Architect, Architectural Theorist, Urbanist an...

Paul Krugman

Author and Professor; Winner of the 2008 Nobel Prize...

Ray Kurzweil

Chairman, Kurzweil Technologies & A Director of Engi...

Lawrence Lessig

Director, Edmond J. Safra Center for Ethics, Harvard...

Amory Lovins

CEO of the Rocky Mountain Institute and World-Class ...

Tom Peters

Speaker, Professional Agitator at Tom Peters Company...
More like Douglas