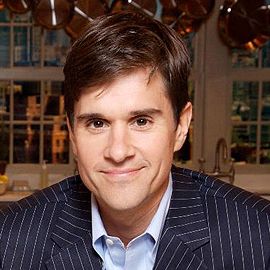 Dr. Brent Ridge
Co-Founder, Beekman 1802 Co-Star, The Fabulous Beekman Boys, Author, Beekman 1802 Heirloom Cookbook
Brent Ridge and his partner, Josh Kilmer-Purcell were typical stressed out New Yorkers who dreamed of a simple life in the country at a cozy weekend home. But the house they purchased in Sharon Springs, N.Y., in 2006, came with an entire farm — and since then, life has been anything but relaxed.
Ridge, a former doctor and vice president for healthy living at Martha Stewart Living Omnimedia, and Kilmer-Purcell, an advertising executive, made a giant leap of faith and co-founded Beekman 1802, a goat farm and green lifestyle company. Their reality show The Fabulous Beekman Boys, on Discovery's Planet Green network, chronicles their struggles to adapt to country life, and is quickly gaining recognition and fans worldwide
Speech Topics
---
The Story of Beekman 1802
Whether speaking by himself or with his partner, Josh Kilmer-Purcell, Dr. Brent Ridge shares the unlikely story of how two Manhattanites built a thriving goat farm business. Placing value on quality, craftsmanship and a green lifestyle, Ridge and Kilmer-Purcell are committed to helping local farmers and craftsmen in their community create their own sustainable businesses. They have expanded Beekman's products from goat's milk and soap to scarves, stationery and other products lovingly made by local artisans.
Shared with honesty, relatable anecdotes, inspiration and lots of humor, the story of Beekman 1802 encompasses entrepreneurship, taking risks, embracing change and following your passion. It is a true example of the positive impact one business can have on an entire community.
Related Speakers View all
---
Josh Kilmer-Purcell

Co-Star, Fabulous Beekman Boys Author, The Bucolic P...

Matthew Pearl

Author, The Dante Club NY Times Bestseller

Bob Hurley

Iconic High School Basketball Coach

Rob Bell

New York Times Best-selling Author & Spiritual Teac...

Yael Cohen Braun

Activist, Social Entrepreneur, Founder, F*ck Cancer

Bob Chapman

CEO of Barry-Wehmiller and Bestselling-Author of "Ev...

Rob Paulson

American Actor; Known for voice of Teenage Mutant Ni...

David Skok

General Partner at Matrix Partners

Jeff Boss

Former Navy SEAL and Author of "Navigating Chaos"

Brad Stapleton

Visiting Research Fellow at Cato Institute

Nicholas Quinn Rosenkranz

Senior Fellow in Constitutional Studies at Cato Inst...

Jason Kuznicki

Research Fellow and Editor, Cato Unbound

Matthew Feeney

Policy Analyst at the Cato Institute

Patrick G. Eddington

Policy Analyst, Homeland Security and Civil Liberties

Greg Toppo

National K-12 Education Writer, USA Today

Greg McGoon

Actor and Author of "The Royal Heart"

Gary Vider

Comedian from America's Got Talent

Marcus Butler

British YouTube Vlogger Known for "Marcus Butler" Ch...

Adam Stockhausen

Production Designer

Billy Goldfeder

Deputy Fire Chief: Loveland-Symmes FD, Ohio & Author.
More like Dr.