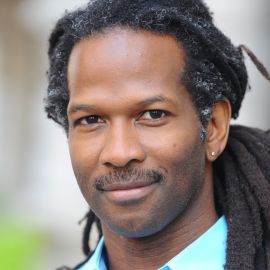 Dr. Carl Hart
Associate Professor of Psychology in both the Departments of Psychiatry and Psychology at Columbia University
Dr. Hart is an Associate Professor of Psychology in both the Departments of Psychiatry and Psychology at Columbia University, and Director of the Residential Studies and Methamphetamine Research Laboratories at the New York State Psychiatric Institute. A major focus of Dr. Hart's research is to understand complex interactions between drugs of abuse and the neurobiology and environmental factors that mediate human behavior and physiology. He is the author or co-author of dozens of peer-reviewed scientific articles in the area of neuropsychopharmacology, co-author of the textbook, Drugs, Society, and Human Behavior, and a member of a NIH review group. Dr. Hart was recently elected to Fellow status by the American Psychological Association (Division 28) for his outstanding contribution to the field of psychology, specifically psychopharmacology and substance abuse.
Click Here to register and get pricing on booking Dr. Carl Hart for your next event!
Videos
---
Speech Topics
---
The Highs and Lows of Legalized Marijuana
Drug Policy and Public Opinion
Most Popular Drugs in America
Complexity of Drug Abuse
Drugs in Pop Culture
Explanation of his Drug Research Lab
Drug Addicts and Addiction
Books
---
Get notified of new talks and events.
Follow
Related Speakers View all
---
Spencer Wells

Geneticist, anthropologist, author, entrepreneur, ad...

Sam Gosling

Psychologist of human perception, author and professor

Marina Adshade

Author of "Dollars and Sex: How Economics Influences...

Virginia Postrel

Writes on The Intersection of Commerce & Culture; Au...

Edward O. Wilson

Scientist hailed as "the new Darwin," author and pro...

Matthew C. Nisbet

Professor of Communication, American University

David Life

Yoga Master; Co-Founder, Jivamukti Yoga

Julia Bolz

Women's Rights Activist

Josh Lieb

Executive Producer, "The Daily Show"

An Phung

Multimedia Journalist

Brian Hoffstein

Contributing Writer

Cody Adams

Managing Editor of The Floating University.

Nelson George

Author / Filmmaker

Anthony Fauci

Dr. Anthony S. Fauci, a native of Brooklyn, New York...

Jeffrey Israel

Jeffrey Israel has taught religion and political phi...

Peter Thiel

Former CEO and Co-founder of PayPal; Technology Entr...

Neil Giuliano

President, GLAAD

Sherman Alexie

Poet, Short Story Writer, Novelist, and Performer

Dan Ariely

Best-selling Author, "The (Honest) Truth About Disho...

Dr. Paul Wolpe

Asa Griggs Candler Professor of Bioethics; Director,...
More like Dr.