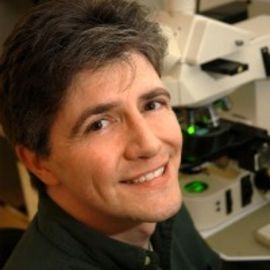 Dr. Matthew Breen
Dr. Breen / Professor of Genomics in the Dept. of Molecular Biomedical Sciences / NCSU College of Veterinary Medicine
Dr. Matthew Breen graduated with honors in Genetics from the University of Liverpool, U.K. in 1987. He completed his PhD, working on cytogenetics of the Equidae in 1990 and was then employed as a Post Doctoral research scientist in Molecular Genetics at the U.K. Medical Research Council's Human Genetics Unit in Edinburgh, Scotland, where he was responsible for developing improved fluorescence in situ hybridization (FISH) techniques as part of the Human Genome Mapping Project.
Dr. Breen then spent four years working at the University of Queensland in Brisbane Australia where he developed and applied markers for DNA based parentage testing for horses and extended this technology to other equine species.
In 1996 Dr. Breen returned to the U.K., working at the Animal Health Trust in Newmarket, where his laboratory developed molecular cytogenetics reagents, resources and techniques for application to canine and equine genome mapping, comparative cytogenetics and canine cancer studies.
In 2002 Dr. Breen relocated his laboratory to NCSU's College of Veterinary Medicine as part of their Genomics initiative. His research interests since that time have continued to focus on genomics, genome mapping and the comparative aspects of canine cancer. In addition his lab is using high throughout molecular cytogenetics for anchoring emerging genome assemblies and for evaluating the changes to genome structure that occur during speciation. The lab is also developing new molecular assays for diagnostic and prognostic use in veterrinary medicine.
Dr. Breen is a Professor of Genomics in the Dept. of Molecular Biomedical Sciences at the NCSU College of Veterinary Medicine. He is also a member of the NCSU Center for Comparative Medicine and Translational Research (CCMTR), the NCSU Genetics Program in the College of Science, and the Cancer Genetics Program at the University of North Carolina's Lineberger Comprehensive Cancer Center. Dr. Breen was a charter member, and now serves on the Board of Directors, of the Canine Comparative Oncology and Genomics Consortium (CCOGC), a 501c3 not-for-profit organization established to promote the role of the dog in comparative biomedical research. He is also a charter member of the Sea Lion Cancer Consortium (SLiCC).
Dr. Breen has served on scientific review committees for organizations including the National Institutes of Health, AKC Canine Health Foundation and the Morris Animal Foundation and is a regular reviewer for numerous scientific journals. In 2007 Dr. Breen was awarded the Asa Mays Award for Excellence in Canine Health Research. In 2009 Dr. Breen was elected as a Fellow of the Society of Biology. In 2012 he was appointed to the Board of Directors of the Puccini Foundation and in 2013 he was appointed as Associate Editor of Chromosome Research.
Related Speakers View all
---
Dr. Tierney Thys

Marine Biologist Who Studies the Mola Mola, The Worl...

Michael Archer

Paleontologist Michael Archer is working to bring ba...

Daniel Pauly

Daniel Pauly is the principal investigator at the Se...

Kristofer Helgen

Zoologist & Curator of Mammals at the Smithsonian; D...

Paul Nicklen

National Geographic Photographer and Marine Biologist

Diana Reiss

A professor of psychology at Hunter College and in t...

Dr. Robert H. Schneider

Physician, Scientist & Educator; One of the World's ...

Mitch Resnick

Mitchel Resnick is LEGO Papert Professor of Learning...

Richard J. Davidson

William James and Vilas Professor of Psychology and ...

Paul Offit

Director, Vaccine Education Center, Children's Hospi...

Simon Lovell

English Comedy Magician, Card Shark Actor and Con Man

Marla Spivak

Marla Spivak is an entomologist who is developing pr...

Dr. Hendrik Poinar

Evolutionary Biologist Specializing in Ancient DNA

Paul Snelgrove

Paul Snelgrove led the group that pulled together th...

Dyan "The Penguin Lady" deNapoli

Penguin Expert, TED Speaker, & Award-Winning Author ...

Laurel Braitman

Senior TED Fellow and author of Animal Madness.

Dave Salmoni

Animal Planet Television Personality & Large Predato...

Christopher Austin

Director, National Center for Advancing Translationa...

Katie Cleary

Actress and Model; Founder of Peace 4 Animals and Wo...

Wyatt Decker

Vice President, Mayo Clinic; CEO, Mayo Clinic, Arizona
More like Dr.