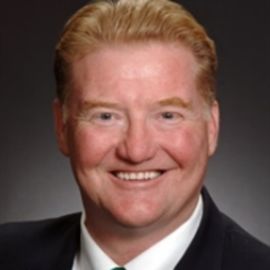 Earl Johnson
Author of "Stairwell to Heaven -- A 9-11 World Trade Center Survivor's Story of Escape, Heroism ... and Family."
Earl Johnson's background includes a Bachelors degree in Economics from the University of Washington and a 28 year career in the Financial Services industry which has included positions as President and CEO, Senior Vice President, Managing Director, Vice President, and Business Unit Manager with enterprises ranging from startups to large diversified financial services corporations.
In March 2001, Johnson accepted a job in New York and began commuting from Bainbridge Island to his new office on the 51st floor of the World Trade Center. On the morning of September 11, Johnson arrived at work half an hour earlier than usual. He heard a loud explosion, followed by a shaking and swaying of the building so massive that he was lifted off the floor and thrown into a nearby wall. The story of his narrow escape from the World Trade Center, as well as the pain and the courage he witnessed that day are captured in "Stairwell to Heaven -- A 9-11 World Trade Center Survivor's Story of Escape, Heroism ... and Family."
Rooted in the reality of the environment he encountered that morning in September 2001, Earl brings the listener right along with him as he descends the "Stairwell To Heaven." In the process, he provides each audience with a gift, an ability to gain new perspectives and insights that they in turn can successfully apply to the benefit of their own lives and circumstances.
Following the completion and publication of his book, Earl turned his energy full time toward bringing his inspirational keynote messages to a wide range of audiences. These include:
School Assemblies & Graduations
College Campuses & Athletic Departments
Chambers of Commerce
Corporate Retreats & Conferences
Conventions & Customer Appreciation Events
Churches and Faith based Schools
First Responder community
After 9-11, Earl returned to Bainbridge Island, just across Puget Sound from Seattle. He enjoys the benefits of Pacific Northwest living including boating, skiing and fishing.
As a direct result of the sacrifice he witnessed by First Responders that morning in September 2001, Earl ran for, was elected and served three years as a Fire Commissioner for the Bainbridge Island Fire Department. He has additionally served as a Board member of various community based organizations.
Related Speakers View all
---
Fabrizio Bivona

First Responder on September 11, 2001; Author of "Go...

Manuel Miranda

Chairman of the Third Branch Conference, a coalition...

Mike Adams

Conservative, Free Speech Advocate and Author

Patrick Coyle

Vice President for Young America's Foundation

Nonie Darwish

Egyptian-American Human Rights Activist; Founder of ...

Frank Donatelli

Executive Vice President and Director of Federal Pub...

Dan Flynn

American conservative, author and former executive d...

Humberto Fontova

Cuban-American author, blogger, political commentato...

Doug Giles

Conservative Columnist and Political Commentator

Byron York

Chief political correspondent for the Washington Exa...

Anne Korin

Co-director of the Institute for the Analysis of Glo...

Phelim McAleer

Director and producer of documentaries "FrackNation,...

Ann McElhinney

Documentary filmmaker; director and producer of cont...

Jason Mattera

American writer, conservative activist, radio host a...

Katie Pavlich

Political Reporter and Author of "Fast and Furious: ...

Kate Obenshain

Defender of conservative principles; Co-founder of J...

Erick Erickson

Editor of "The Resurgent," Co-Author of "Redstate Up...

Jesse Lee Peterson

President and founder of The Brotherhood Organizatio...

Joseph Phillips

Actor, author and conservative speaker

John Reitzell

Served as the Reagan Administration's Department Of ...
More like Earl