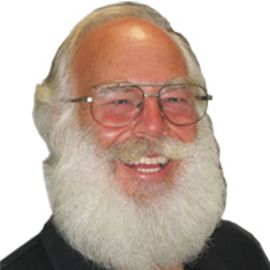 Ed Taylor is the owner of Internet Marketing Group an Internet marketing services, consulting and training firm focused on helping small businesses owners improve their Internet marketing results. Ed is also one the country's most requested Internet marketing speakers with over 1,550 presentations under his belt.
Most Requested Topics
Social Networking
Search Engine Optimization (SEO)
Website Conversion Improvement
Increase Website Leads
Pay Per Click Advertising (PPC)
E-Mail Marketing
Increase Website Sales
"Fun," "Entertaining," "Jolly" these are not words typically used to describe a presentation about Internet marketing, but these are always among the first words attendees use to describe Ed Taylor's presentations.
Ahh, but don't judge too quickly. As the conversation deepens and moves past his jovial presence and whiskers, the adjectives change. Attendees start using words like insightful, enlightening, strategic, tactical and even the word brilliant is bantered about. From there, the conversation shifts to an eagerness to apply what has been learned to their own unique website or Internet marketing situation.
After more than 15 years, and over 1,550 presentations, Ed has learned the 3 essential elements of an outstanding Internet marketing presentation: 1. Make it fun. 2. Provide simple, proven, relevant strategies and tactics that audience members can easily understand and quickly apply. 3. Make it current to todays fast changing marketplace.
Ed works with small business owners every day. He thoroughly understands every aspect of Internet marketing and is up to the minute with what is working and not working right now. He had his first $10,000 day marketing his company on the Internet in 1994. He founded Internet Marketing Group in 1995. He has worked with hundreds of clients in dozens of industries. Ed is currently responsible for more than 37,000 top search engine rankings for his Search Engine Optimization (SEO) clients world-wide and continues to work "hands on" with his clients daily.
Videos
---
Related Speakers View all
---
MICHAEL B RUSSELL, MA, MBA

Mike is a servant Christian and an ordained Southern...

Eugene Ubalijoro

Managing Director, Heineken Caribbean and Americas E...

Ed Asner

Actor & Activist

Christopher Guest

Guest was born Feb. 5, 1948, the son of Peter Haden-...

Harry Shearer

Actor and Comedian; Known for "The Simpsons" and "Sp...

Milton Pappas

President of Ecommerce THE JONES GROUP

RoseAnn B. Rosenthal

President & CEO , Ben Franklin Technology Partners/SEP

Bob Balaban

Acclaimed Actor, Writer, Director & Producer

William Daniels

Actor Best Known as Mr. George Feeny in ABC's Boy Me...

Larry Miller

Actor / Comedian / Humorist

Adam Evers

Social Media Strategist

Jason Dorsey

The Gen Y Guy & Chief Strategy Officer at The Center...

Linda Friedland

international speaker, bestselling author, medical ...

John Di Frances

Speaking to audiences real needs.

John Meluso

The World's only,Human Bridge, "Connect and Grow Wea...

Eric Gnezda

Humorist, songwriter and inspirational speaker. Crea...

Rick Wemmers

Rapid Business Development Expert

Douglas Vermeeren

Top Business and Personal Performance Speaker

Nancy Michaels

Nancy Michaels is a nationally-known business develo...

Aaron Davis

Contagious Enthusiasm to Perform Like Champions
More like Ed