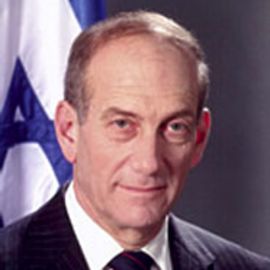 One of the most influential and respected leaders in Israels history, Ehud Olmert became Prime Minister with a courageous vision: achieving prosperity through peace. Born in 1945, Olmert began his career in public service at only 28 years old, serving seven consecutive terms in the state legislature as a member of the Foreign Affairs, Defense, Finance and Education Committees, and as Minister of Health. Even before his first public election, Olmert had earned three degrees in philosophy, psychology and law from the Hebrew University of Jerusalem; served with the Israel Defense Forces as a journalist and military correspondent; and was at the helm of a successful law partnership in Jerusalem. Olmert recently made international headlines with the release of his memoirs in Israel.
Olmert rose to international prominence when he was elected Mayor of Jerusalem in 1993. During his decade as Mayor, Olmert established the most advanced transportation infrastructure in the country, reformed the education system with hundreds of school improvements, expanded small neighborhoods into hi-tech industrial centers and established a historic budget surplus for Jerusalems growing economy. Olmerts improvements changed the face of the city, but Jerusalem was constantly confronted with violent terrorism which resulted in hundreds of civilian casualties. As Mayor, he made an uncompromising decision: Olmert personally visited the home of every family in Jerusalem who lost a loved one to terrorist attacks. He also made historic advances in the citys emergency response system, setting a new standard for safety in the region.
After achieving unparalleled success in the legislature and as Mayor, Olmert was appointed by Prime Minister Sharon to serve in his cabinet as Vice Prime Minister and Minister of Industry, Trade and Labor. Olmert founded historic free trade agreements that bolstered Israels economy, resulting in a tremendous increase in exports, employment and trade routes throughout the country. For the first time in history, the scope of Israels exports exceeded imports; and under Olmerts economic and financial leadership, Israel experienced unprecedented growth and regional trade expansion.
In 2006, Olmert was designated Acting Prime Minister as a result of the serious stroke suffered by Prime Minister Sharon. In the historic election that followed, Olmert was elected the 12th Prime Minister of Israel, resolving to advance the focus on peace, prosperity and international diplomacy. Under Olmerts leadership, Israel reduced casualties from terror attacks to the lowest in decades. With more families employed than ever before, Israels economic growth exploded even when compared with some Western nations, and his time in office left Israel with a record budget surplus. As Prime Minister, Olmert forged intimate relationships with prominent world leaders George W. Bush, Gordon Brown, Nicolas Sarkozy and Angela Merkel among others, which unified the global community with a shared vision for peace in the middle east.
At the podium, Olmert offers an in-depth analysis of the worlds most difficult and complex issues, including international security, urban infrastructure, universal health care and education reform.
Related Speakers View all
---
Ben and Jerry

Co-Founders of Ben & Jerry's Homemade, Inc.

Michael Uslan

Batman Executive Producer & Comic Book Historian

Alan Zweibel

Alan Zweibel's career began writing and creating cha...

Cory Booker

US Senator from New Jersey and Author of "United"

Mia Farrow

Acclaimed Actress & Humanitarian Activist

Lee Hirsch

Award-Winning Director of Bully.

Marlee Matlin

Academy Award Winning Actress & Activist

Prime Minister Shimon Peres

In the long and continuing struggle for harmony in t...

Ehud Barak

Former Minister of Defense and Prime Minister of Isr...

Ronan Farrow

American Activist, Journalist, Lawyer and Former Adv...

Tzipi Livni

Head, Kadima; Leader of the Opposition, Israel

Saul Singer

Journalist & Bestselling Co-Author of "Start Up Nation"

Michael Moore

Academy Award Winning Documentarian & Best-Selling A...

Danny Glover

Acclaimed Actor & Leading Social Activist.

Benjamin Esposito

Game maker, Little Flag Software

Congressman Ron Paul

United States Congressman from Lake Jackson, Texas, ...

Meghan McCain

Political Columnist, Author & Award-Winning Blogger

Harold Ford, Jr.

Former U.S. Representative & Political Analyst for M...

Barbara Ehrenreich

Journalist and Author of the NY Time's Best-selling ...

Byron Pitts

CBS News Chief National Correspondent, Contributing ...
More like Ehud