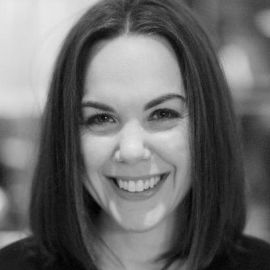 Elizabeth Holmes is a reporter for The Wall Street Journal. She covers fashion, beauty and lifestyle trend stories for the Personal Journal section of the paper, a position she has held since 2011. She is also the host of a how-to web video series #THIS. w/ Elizabeth Holmes, which can be seen on WSJ.com, YouTube and Aol.
Prior to joining Personal Journal, Ms. Holmes covered corporate retail for two years, focusing primarily on apparel brands. Before joining the retail team, Ms. Holmes covered the 2008 presidential race, following Mitt Romney on the campaign trail during the primaries and subsequently John McCain and Sarah Palin during the general election.
Ms. Holmes began her career with the Journal in 2006 as a reporting assistant for Marketplace. She has also worked at a daily newspaper in suburban Chicago and a television station in northern Michigan. She graduated magna cum laude from St. Olaf College in Minnesota with a degree in English and economics, and received a master's degree in journalism with honors from the Columbia University Graduate School of Journalism.
Click Here to register and get pricing on booking Elizabeth Holmes for your next event!
Get notified of new talks and events.
Follow
Related Speakers View all
---
Mel H. Abraham

He has a riveting presence, created by his absolute ...

Milt Abel

Milt Abel is a corporate-clean stand-up comedian tha...

Mike Abrashoff

Former Commander of USS Benfold and Author of "It's ...

J.J. Abrams

Director, Producer, Writer, Author; Known for His Wo...

Melvin Adams

Former Harlem Globetrotter with a Passion for Reachi...

Kirk Acevedo

Actor Best Known for His Roles on "Dexter," "Band of...

Jose Antonio Abreu

Founder of El Sistema, Which Helps Venezuelan Childr...

Carol Adelman

Carol Adelman is a senior fellow and director of Hud...

Newton Aduaka

Newton Aduaka's award-winning Ezra, told through the...

Janus Adams

Award-Winning Journalist

Jenoyne Adams

African-American Novelist.

Khandi Alexander

Khandi Alexander (born September 4, 1957) is an Amer...

Shaun Alexander

NFL Great

Laila Ali

Undefeated 4 Time World Champion Boxer 24-0 with 21 ...

Alan Alda

Actor, Writer, Science Advocate, and Director

Adewale Akinnuoye-Agbaje

Fashion Model & Actor Known for "Lost," "Oz" & "Suic...

Jane Alexander

Actress and Former Director of the National Endowmen...

Bruce Aitken

Bruce Aitken was born in Invercargill New Zealand wh...

Gary Aldrich

On Independence Day, 1996, former FBI Agent Gary Ald...

Marilyn Albert

Dr. Marilyn Albert received her PD degree in Physiol...
More like Elizabeth