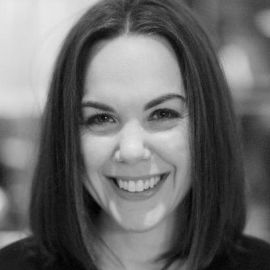 Elizabeth Holmes is a reporter for The Wall Street Journal. She covers fashion, beauty and lifestyle trend stories for the Personal Journal section of the paper, a position she has held since 2011. She is also the host of a how-to web video series #THIS. w/ Elizabeth Holmes, which can be seen on WSJ.com, YouTube and Aol.
Prior to joining Personal Journal, Ms. Holmes covered corporate retail for two years, focusing primarily on apparel brands. Before joining the retail team, Ms. Holmes covered the 2008 presidential race, following Mitt Romney on the campaign trail during the primaries and subsequently John McCain and Sarah Palin during the general election.
Ms. Holmes began her career with the Journal in 2006 as a reporting assistant for Marketplace. She has also worked at a daily newspaper in suburban Chicago and a television station in northern Michigan. She graduated magna cum laude from St. Olaf College in Minnesota with a degree in English and economics, and received a master's degree in journalism with honors from the Columbia University Graduate School of Journalism.
Click Here to register and get pricing on booking Elizabeth Holmes for your next event!
Get notified of new talks and events.
Follow
Related Speakers View all
---
Rebecca Nagy
Rebel Brown

Market Strategist, Agent of Change, Speaker, Author....

Redia Anderson

Chief Diversity & Inclusion Office, BP-Americas

Renee Lee Rosenberg

An engaging motivator who encourages forward progress

Renie Cavallari

Renie Cavallari is a renowned Speaker, Trainer, Keyn...

Rich Hart

LIFT MORE !!!

Rich Lucia

Author, Speaker, Consultant

Richard Burleson

Vice President of Engineering Firm Neel-Schaffer

Richard Fabozzi

Creates highly interactive and value-driven "Experie...

Richard Schenkar
Rick Chromey

Inspirational Edutainer. Leadership Imagineer. Cultu...

Rick Frishman

Founder of Planned Television Arts

Rick Kiernan
Rick Ott

Rick Ott speaks about making money and building weal...

RM Reed
Robert Collinsworth
Robert Douglas
Robert Gedaliah

President of "Speaking for Results"

Robert Jerus
Robert Martin

Gavin de Becker & Associates protects people who are...
More like Elizabeth