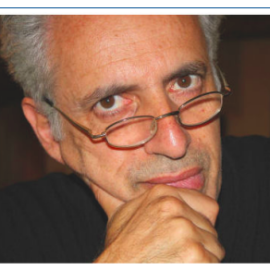 Dr. Eric Scerri is a chemist, author and leading historian and philosopher of science, specializing in the periodic table of the chemical elements. He is the author of "The Periodic Table, Its Story and Its Significance" (Oxford University Press, 2007) and numerous other books on this and related topics.
His writing includes a number of books directed at the general public such as "A Very Short Introduction to the Periodic Table and 30-Second Elements." He is a frequent contributor to popular science magazines such as Scientific American and New Scientist.
Dr. Scerri has been a full-time lecturer in chemistry and history & philosophy of science at UCLA for the past fifteen years where he regularly teaches classes of 350 undergraduates as well as classes in history and philosophy of science. His research ranges across many areas including chemical education, and historical and philosophical questions such as the relationship between chemistry and quantum physics.
He has been a consultant for TV and radio programs and has appeared extensively in TV interviews such as in the highly successful PBS series titled "The Mystery of Matter."
In his latest book, A Tale of Seven Scientists and A New Philosophy of Science In his latest book, Eric Scerri presents a completely original account of the nature of scientific progress. It consists of a holistic and unified approach in which science is seen as a living and evolving single organism. Instead of scientific revolutions featuring exceptionally gifted individuals, Scerri argues that the "little people" contribute as much as the "heroes" of science. To do this he examines seven case studies of virtually unknown chemists and physicists in the early 20th century quest to discover the structure of the atom.
Dr. Scerri has given lectures to general audiences on all six continents.
Click Here to register and get pricing on booking Dr. Eric Scerri for your next event!
Reviews
---
book review: A Tale of Seven Elements from Wall Street Journal

Wall Street Journal, October 21, 2013

How seven elusive elements that completed the periodic table were found.

By PETER PESIC
At some point, many of us have gazed in idle wonder at a periodic table hanging on a classroom wall. Some elements are familiar, but many are mysterious, down to their abbreviations. What is Pm? What color is Hf? Is Fr dangerous? And what does this iconic chart mean, arranging the chemical elements into an arresting graphic design?

Mr. Scerri writes clearly and calmly, without the impulse to overdramatize that can mar popular books about science. "A Tale of Seven Elements" brings forward several interesting and lesser-known female protagonists, such as the French physicist Marguerite Perey, who discovered element 87 (francium) in 1939, though she didn't yet have an undergraduate degree and wouldn't receive her doctorate until 1949. Like her mentor, Marie Curie, Perey died early as a result of her work with radioactive materials when their dangers weren't fully known.

Throughout, Mr. Scerri provides astonishing details almost in passing. For instance, in 1972 anomalies in the ratio of uranium isotopes found in Oklo, Gabon, led to the deduction that a self-sustaining nuclear chain reaction had occurred at that site naturally, two billion years before Enrico Fermi and others accomplished this feat artificially in 1942. This natural chain reaction lasted somewhere between 600,000 and 1.5 million years, presumably limited by the supply of nuclear "fuel." Further, the Oklo "reactor" produced a number of telltale elements (such as technetium and promethium) that otherwise would have been absent from the earth's crust.

Mr. Scerri's outstanding book helps us understand the special spirit of chemistry, whose contribution to science and human experience emphasizes the crucible of experiment. The days of discovery aren't over: Beyond uranium, two dozen more elements have been produced artificially. Mr. Scerri notes that chemists have no secure consensus about how many elements are possible: Some say 137; others 173. The periodic table, as imposing as it looks, is still a work in progress. What further surprises might it disclose?

—Mr. Pesic, tutor and musician-in-residence at St. John's College, is the author of "Sky in a Bottle."


Peter Pesic

· St. John's College
Speech Topics
---
Hot Topics
How the Periodic Table of the Chemical Elements Emerged
What is this thing called science?
Why does chemistry matter?
A Tale of Seven Elements
How and why science matters to our lives
Neither the political right nor the left generally have a good understanding or acceptance of science. The right denies climate research, reproductive science and evolution. Some on the left favors anti-scientfic New Age philosophies and remedies. It denies vaccines. Science is seen as an enigma that is the province of a super rational and especially talentend elite. My talk sets out to dismiss these view. I argue that science proceeds gradually through trial and error not as a result of genius. I argue that it is the product of the 'little people' as much as the scientific heroes.
News
---
Upcoming lectures and conference appearances
February 20th - Truman State University, Kirksville, Missouri, plenary lecture to Science and Mathematics Distinguished Speaker series
April 4th - Chairing Meeting of IUPAC Working Group on group 3 of the periodic table, American Chemical Society Meeting, San Francisco
June 29th - Seminar Series on History and Philosophy of Chemistry University of Paris, Diderot, Classification périodique des éléments : éléments d'histoire et de philosophie des sciences
July 3rd–5th - International Society for the Philosophy of Chemistry 21st annual meeting. SPHERE Center, University of Paris Diderot
July 6th - Start of one-month fellowship at University of Turin, Italy
July 12th-15th - Lecture to Segrè Summer School of Chemical Education, Turin, Italy
October 20th - Plenary Lecture to Midwest Regional Meeting of American Chemical Society, University of Kansas, Lawrence
November 11th - Plenary Lecture to Southeastern Regional Meeting of the American Chemical Society, Charlotte, North Carolina - See more at: http://ericscerri.com/speaking.html#sthash.bEKO0ZtM.dpuf
Get notified of new talks and events.
Follow