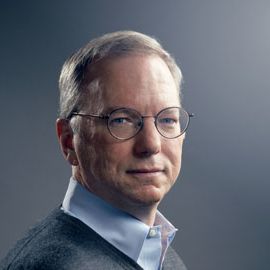 Eric Schmidt is an American software engineer, a businessman, and the Executive Chairman of Alphabet, Inc. In 2017, Forbes ranked Schmidt as the 119th-richest person in the world, with an estimated wealth of $11.1 billion dollars.
Schmidt served as the CEO of Google from 2001 to 2011. Eric Schmidt helped grow the company from a Silicon Valley startup to a global enterprise. Under his leadership, Google dramatically scaled its infrastructure and broadened its offerings while maintaining a culture of strong innovation. His background uniquely prepared him to lead Google's efforts toward technological solutions that focus on users. With founders Sergey Brin and Larry Page, and the rest of the executive team, Eric oversaw the company's technical and business strategy.
Prior to joining Google, Eric was the Chairman and CEO of Novell and Chief Technology Officer at Sun Microsystems, Inc., where he led the development of Java, Suns platform-independent programming technology. Earlier in his career, Eric was a member of the research staff at Xerox Palo Alto Research Center (PARC) and held positions at Bell Laboratories and Zilog. He holds a bachelors degree in electrical engineering from Princeton University as well as a masters and Ph.D. in computer science from the University of California, Berkeley.
Eric is a member of President Obamas Council of Advisors on Science and Technology. He was elected to the National Academy of Engineering in 2006 and inducted into the American Academy of Arts and Sciences as a fellow in 2007. Eric also chairs the board of the New America Foundation.
Speech Topics
---
Music
cultural social innovation audience christian organization reality online work
Content
news responsibility human rights people monetary corporate governance arab
Social
spain region latin brazil america cultural crisis mexican state
Ideas
Thought change power start understanding build human future open
Global
system cities greece mobile growth government china countries euro
Related Speakers View all
---
Sheryl Sandberg

COO of Facebook

Sir Richard Branson

Founder of Virgin Group

Marissa Mayer

President and CEO of Yahoo

Tony Hsieh

CEO of Zappos

Mark Zuckerberg

Founder & CEO of Facebook, Inc.

Larry Page

CEO of Alphabet & Co-Founder of Google

Bill Gates

Co-Founder of Microsoft; Co-chair of the Bill & Meli...

Jeff Bezos

Founder and CEO, Amazon

Reid Hoffman

Co-Founder and Executive Chairman of LinkedIn & Part...

Clay Shirky

Expert on New Technology and Social Media, and How T...

Steve Wozniak

Co-Founder, Apple Computer, Inc.

Sergey Brin

Co-Founder & President, Technology Google

Guy Kawasaki

Chief Evangelist of Canva, a Graphics-Design Online ...

Ray Kurzweil

Chairman, Kurzweil Technologies & A Director of Engi...

Jimmy Wales

Co-founder of Wikipedia and Mobile Phone Carrier The...

Elon Musk

CEO and Product Architect of Tesla Motors; CEO/CTO o...

Howard Schultz

Chairman, President & CEO of Starbucks

Peter Diamandis

Chairman and CEO, X PRIZE Foundation; Author

Tim O'Reilly

Founder and CEO, O'Reilly Media

Arianna Huffington

Former President & Editor-in-Chief of The Huffington...
More like Eric