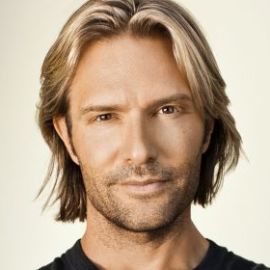 Eric Whitacre began his music career singing in his college choir, with no previous musical experience. By 21, he had completed his first concert work, Go, Lovely Rose, and soon advanced to Juilliard where he studied under Oscar-winning composer John Corigliano. Today, his 44 published concert pieces have sold over a million copies, he has conducted choral music in some of the most esteemed halls in the world and his music has been featured on dozens of commercial recordings.
Most recently, Whitacre has been noticed for his cutting-edge work, Paradise Lost: Shadows and Wings, a musical that combines electronica with choral and operatic traditions. The musical has earned him the prestigious Richard Rodgers Award and received 10 nominations at the 2007 Los Angeles Stage Alliance Ovation Awards.
"What hits you straight between the eyes is the honesty, optimism and sheer belief that passes any pretension. This is music that can actually make you smile."
Click Here to register and get pricing on booking Eric Whitacre for your next event!
Speech Topics
---
Bringing people together in new ways to create great things
Intuition as a creative force - how to access, nurture and develop it
The composer/conductor as communicator and builder of communities
The Virtual Choir and the humanism of technology
Creativity and Connection
Eric is the creator of the Virtual Choir, a digital project that combines thousands of user-submitted videos into a single stunning choral performance. This global choir transcends geography, class, and background: it is a testament to the power of leadership and technology to foster creativity and connection, even in the most challenging circumstances.
Eric draws on this experience to speak inspiringly about the possibilities that open up when people are invited to contribute creatively and share their talent with their peers. He explains how the drive to create and share, which have always lain at the heart of choral music, can be harnessed in professional contexts, and he shares the strategies and sensibilities that allow leaders to unlock that drive in the teams they manage.
With his warm, engaging style, Eric is an ideal speaker on this subject, creating an inclusive, encouraging space where creativity and connection are within everyone's grasp.
Get notified of new talks and events.
Follow
Related Speakers View all
---
Atsutoshi Nishida

Chairman of the Board, Toshiba Corporation, Japan

Angel Gurria

Secretary-General, Organisation for Economic Co-oper...

Seth Berkley

CEO of Gavi, the Vaccine Alliance; Medical Doctor Sp...

Gillian Tett

Columnist, Financial Times

Jeffrey Sachs

Director, The Earth Institute

Meghann Gunderman

Executive Director, The Foundation For Tomorrow, USA

Joi Ito

Venture Capitalist & Director of the MIT Media Lab

Vali Nasr

Academic and Author Specializing in the Middle East ...

Tan Chorh-Chuan

President National University of Singapore

Muhtar A. Kent

Chairman of the Board and Chief Executive Officer at...

Luis Videgaray Caso

Secretary of Finance and Public Credit of Mexico

Fredrik Reinfeldt

Prime Minister of Sweden

Dr. Laura D'Andrea Tyson

First Female Chairman of White House Council of Econ...

Steven Vanackere

Deputy Prime Minister and Minister of Finance and Su...

Paul Bulcke

Chief Executive Officer, Nestlé, Switzerland

Christine Lagarde

Managing Director of the International Monetary Fund...

Yan Xuetong

Dean, Institute of International Relations, Tsinghua...

Min Zhu

Deputy Managing Director, International Monetary Fun...

Fareed Zakaria

Global Thinker, Columnist & CNN Host

Vittorio Grilli

Minister of Economy and Finance of Italy
More like Eric