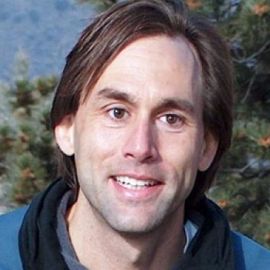 Erik Weihenmayer
Erik Weihenmayer is the first blind man in history to reach the summit of the world's highest mountain - Mount Everest.
Erik Weihenmayer is the first blind man in history to reach the summit of the world's highest mountain - Mount Everest. On September 5, 2002, when he stood on top of Mt. Kosciusko in Australia, Erik Weihenmayer completed his 7-year quest to climb the Seven Summits - the highest peaks on each of the seven land continents, joining only 100 mountaineers who have accomplished that feat. At age 34, he was also one of the youngest. Erik Weihenmayer also participated in the 2004 Eco Challenge - the most arduous adventure race in the world.
A former middle school teacher and wrestling coach, Erik Weihenmayer is one of the most exciting and well-known athletes in the world. Despite losing his vision at the age of 13, Erik has become an accomplished mountain climber, skydiver, and skier, who has never let his blindness interfere with his passion for an exhilarating and fulfilling life. Erik Weihenmayer's feats have earned him an ESPY and recognition by Time Magazine for one of the greatest sporting achievements of 2001.
In addition to being a world-class athlete, Erik is the author of the book, Touch the Top of the World. In this autobiographical work, Erik recalls his struggle to push past the limits of vision loss. Erik Weihenmayer tells his extraordinary story with humor, honesty and vivid detail, and his fortitude and enthusiasm are deeply inspiring. He speaks movingly of the role his family played in his battle to break through the barriers of blindness.
Erik Weihenmayer's accomplishments have gained him abundant press coverage including repeated visits to NBC's Today Show and Nightly News with Tom Brokaw, Oprah, Good Morning America, and Inside Edition to name a few. He has also been featured on the cover of Time magazine and in Sports Illustrated and Men's Journal.
Erik Weihenmayer speaks to audiences around the country on overcoming life's challenges, the importance of teamwork, and the daily struggle to pursue your dreams.
Click Here to register and get pricing on booking Erik Weihenmayer for your next event!
Speech Topics
---
The Adversity Advantage.
Adversity is one of the most potent forces in life. It shapes our character, clarifies our priorities, and defines our path. Erik Weihenmayer, the only blind person to climb the tallest peaks on all seven continents and who recently lead a team of severely injured soldiers to the top of a difficult Himalayan peak, understands that adversity can also fuel our greatness. Erik's message focuses on harnessing the energy of those challenges and setbacks to find a way to win—not despite adversity, but because of it. Says Erik, "Adversity is the pathway."
Capturing the lessons he has learned through his barrier-shattering triumphs and crushing failures, and his humanitarian outreach around the world, Erik speaks on the importance of turning into the storm, developing a pioneering mindset, and building a strong "rope team." Both applicable to business and life, Erik's message reveals rare insights into the human spirit and provides a powerful take away for those who strive to turn their struggles into greatness.
Shattering Expectations.
Erik Weihenmayer inspires audiences to have the vision to dream big, the courage to reach for near impossible goals, and the grit, determination, and ingenuity to transform our lives into something extraordinary. Weihenmayer's daring adventures have shattered people's perceptions all over the world about what is humanly possible. As a blind mountain climber, he has faced one of the most arduous tasks man can attempt, with a unique impediment that turned out to be a special gift. He defines vision as "an internal compass guiding us through the storm," and gives new poignancy to the concept of seeing.
Get notified of new talks and events.
Follow