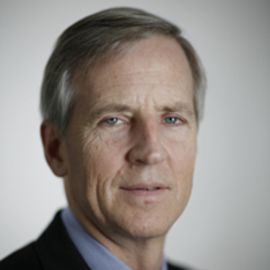 Evan Thomas was made Editor at Large of Newsweek in September 2006. He is the magazine's lead writer on major news stories and the author of many longer features, including Newsweek's special behind-the-scenes issues on presidential elections, and more than a hundred cover stories.
For ten years, 1986-1996, Thomas was Newsweek's Washington bureau chief. He was an Assistant Managing Editor from 1991 to 2006. From 1977-1986, he was a writer and editor at Time magazine. He has won numerous journalism awards, including a National Magazine Award in 1998 for Newsweek's coverage of the Monica Lewinsky scandal. In 2005, his 50,000-word narrative of the 2004 election was honored when Newsweek won a National Magazine Award for the best single topic issue.
Since 1992, Thomas has been a regular weekly panelist on the syndicated public affairs talk show, "Inside Washington." He has appeared on numerous television shows as a commentator, including PBS's "Charlie Rose," and "The NewsHour with Jim Lehrer."
Thomas is the author of six books, all published by Simon & Schuster: "Sea of Thunder," about the war in the Pacific (2006), a New York Times bestseller; "John Paul Jones," a biography of the American revolutionary (2003), a New York Times bestseller; "Robert Kennedy: His Life" (2000); "The Very Best Men: The Early Years of the CIA" (1995); "The Man to See: The Life of Edward Bennett Williams" (1991); and "The Wise Men: Six Friends and the World They Made" (with Walter Isaacson, 1986).
In 2003-04, Thomas was a visiting professor at Princeton. In 2004-05, he was a visiting professor at Harvard. In 2006-2007, he was a visiting professor at Harvard and Princeton. In the fall of 2007 he began a five-year term at Princeton as Ferris Professor of Journalism. He is a member of the Council on Foreign Relations, a fellow of the Society of American Historians and a former trustee of the Thomas Jefferson Center for the Protection of Free Expression. He is a graduate of Harvard and the University of Virginia Law School. He lives with his wife and two children in Washington, D.C. BUY
Videos
---
Links
---
Related Speakers View all
---
Jeff Shaara

American Wartime Novelist & Son of Pulitzer Prize Wi...

Bill O'Reilly

Host of "The O'Reilly Factor," Bestselling Author, a...

Annie Barrows

NY Times Best-Selling Novelist of "The Truth Accordi...

Rick Atkinson

American Author; Winner of Pulitzer Prizes in Histor...

Joseph Finder

NY Times Best-Selling Author Known for "Paranoia," "...

Laurell K. Hamilton

NY Times Bestselling Author of the "Anita Blake: Vam...

Don Winslow

Author; Known for "Neal Carey Mysteries"

Steven Furtick

Founder and lead pastor of Elevation Church

E.L. James

Author of the Bestselling "Fifty Shades Trilogy"

Julian Guthrie

Pulitzer Prize-Nominated Journalist, San Francisco C...

Jay Winik

Bestselling Author and American Historian; Known for...

Sven Beckert

Laird Bell Professor of History at Harvard Universit...

Judy Blume

Children and Young Adult Novelist Known for "Are You...

Jeffrey Kluger

Journalist; Editor and Writer at TIME MAGAZINE. Auth...

Dorothea Benton Frank

New York Times Best-Selling Author, "All the Single ...

Wednesday Martin

Author and Blogger on Parenting, Bestselling Author ...

Sarah Vowell

Bestselling Author & Social Commentator

Stephen King

Author of Contemporary Horror; Won Best Myster and T...

Barbara Delinsky

New York Times Best-Selling Novelist

Philip Moeller

Award-winning financial journalist, author and entre...
More like Evan