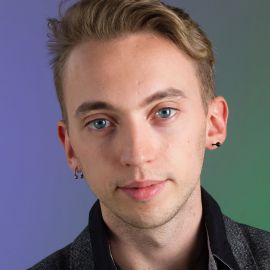 Federico Pistono is social entrepreneur, scientific educator, activist, and public speaker. He's author of the international success "Robots Will Steal Your Job, But That's OK: How to Survive the Economic Collapse and be Happy" and is founder and CEO of konoz. He holds a BSc in Computer Science from the University of Verona, and in 2012 he graduated from Singularity University, NASA Ames Research Park.
His work has also been cited and utilized by major economic institutions, universities, and think tanks, such as the The Economist Intelligence Unit, the Italian Government, Google EU Public Policy and the European Commission.
Click Here to register and get pricing on booking Federico Pistono for your next event!
Videos
---
Speech Topics
---
Future of Work
"Federico is fearless, with mind boggling and never heard of solutions to existing and more futuristic problems. As a frequent presenter and speaker at several fora, he relentlessly promotes ideas of unparalleled imagination and forceful expression." — Kashif Hasnie, Senior Advisor U.S. Department of State, Senior Consultant The World Bank
"An inspiring expert who provided great food for thought as the attendees worked to create prize concepts." — Jordan Brown, XPRIZE Visioneering Senior Director
"Federico is unique in his ability to draw together futuristic thinking with a breadth of topics. He is an excellent speaker and does so with passion and strong technical grounding." — Nicholas Haan, Director of Global Grand Challenges, Singularity University
"We've heard great response – people liked his presentation best among all others." — Volkert Deen, Chief Editor Computerworld.nl and CIO.nl at IDG Netherlands
"Federico in one of the most visionary, entrepreneurial and pragmatic people I have ever met. He thinks big, acts swiftly, connects dots & people through a wonderful mesh of passion, discipline and rationality." —Eric Ezechieli, Nativa Co-founder and Co-director
Get notified of new talks and events.
Follow
Related Speakers View all
---
Mel H. Abraham

He has a riveting presence, created by his absolute ...

Milt Abel

Milt Abel is a corporate-clean stand-up comedian tha...

Mike Abrashoff

Former Commander of USS Benfold and Author of "It's ...

J.J. Abrams

Director, Producer, Writer, Author; Known for His Wo...

Melvin Adams

Former Harlem Globetrotter with a Passion for Reachi...

Kirk Acevedo

Actor Best Known for His Roles on "Dexter," "Band of...

Jose Antonio Abreu

Founder of El Sistema, Which Helps Venezuelan Childr...

Carol Adelman

Carol Adelman is a senior fellow and director of Hud...

Newton Aduaka

Newton Aduaka's award-winning Ezra, told through the...

Janus Adams

Award-Winning Journalist

Jenoyne Adams

African-American Novelist.

Khandi Alexander

Khandi Alexander (born September 4, 1957) is an Amer...

Shaun Alexander

NFL Great

Laila Ali

Undefeated 4 Time World Champion Boxer 24-0 with 21 ...

Alan Alda

Actor, Writer, Science Advocate, and Director

Adewale Akinnuoye-Agbaje

Fashion Model & Actor Known for "Lost," "Oz" & "Suic...

Jane Alexander

Actress and Former Director of the National Endowmen...

Bruce Aitken

Bruce Aitken was born in Invercargill New Zealand wh...

Gary Aldrich

On Independence Day, 1996, former FBI Agent Gary Ald...

Marilyn Albert

Dr. Marilyn Albert received her PD degree in Physiol...
More like Federico