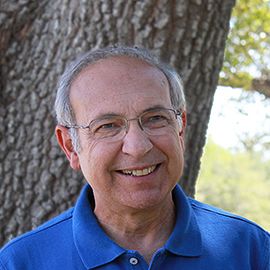 Francisco X. Stork
Author of "The Memory of Light"
Francisco Xavier Arguelles was born in 1953 in Monterrey, Mexico. Ruth Arguelles, his mother, was a single mother from a middle class family in Tampico (a city on the Gulf of Mexico). The reason Francisco was born in Monterrey rather than in Tampico, where Ruth lived, is that her father did not want anyone to know that she was going to have a child out of wedlock. She was sent to Monterrey to live in a convent until the baby was born. The baby was supposed to be given up for adoption, but Ruth changed her mind. After a while, Grandfather Adalberto relented and mother and baby Francisco were allowed to come home.
Six years later Ruth married Charles Stork, a retired man more twenty years her senior. Charles Stork adopted Francisco and gave him his name. Charlie was a kind but strict Dutch man who quickly went about instilling needed discipline in his new son. For his seventh birthday, Charlie gave Francisco a portable typewriter because Francisco announced that he wanted to be a writer. After wandering about Mexico for a few years trying to live on a Social Security pension, Charlie decided to bring the family to the United States where he hoped they would fare better.
The three of them came to El Paso, Texas when Francisco was nine. Charlie, an American citizen was able to obtain the necessary visas for Ruth and Francisco. Francisco was sent to grammar school where he learned English on the go. Unfortunately, no one was willing to give the sixty-five-year-old Charlie a job and so it became even harder for the family to survive in the United States. They lived in a variety of apartments and trailer houses staying in each for as long as possible before getting evicted.
When Francisco was thirteen, Charlie Stork died in an automobile accident. Ruth decided to stay in the United States. She and the boy obtained an apartment in one of the public housing projects of El Paso. Francisco was awarded a scholarship to the local Jesuit High School and soon rose to the top of his class. During his senior year, he received an Honor's Scholarship (full tuition and living expenses) to attend Spring Hill College, a small Jesuit College in Mobile Alabama.
At Spring Hill College, Francisco majored in English Literature and Philosophy and received the college's creative writing award. After college, a Danforth Fellowship (awarded to 40 college seniors out of approximately 5,000 applicants) allowed him to attend graduate school at Harvard University. At Harvard he studied Latin American Literature with people like Octavio Paz, the Mexican Nobel Laureate. However, the emphasis on scholarly research and writing seemed too remote and irrelevant to all that was important. So, after four years of Harvard, Francisco went to Columbia Law School. His plan was to make a living as a lawyer without abandoning his plan to write fiction. Twenty years and twelve or so legal jobs later, Francisco published his first novel. Francisco practiced law for thirty-three years in a variety of private and public venues. For the last fifteen years as a lawyer he worked at MassHousing, a state agency dedicated to financing affordable housing. He retired in 2105 and spends his time writing outside of Boston. Francisco is married to Jill Syverson-Stork. He is the father of Nicholas and Anna and the grandfather of Charlotte.
Francisco Stork is the author of six novels.
Videos
---
Books
---
Related Speakers View all
---
Tami Hoag

Author of "Cold Cold Heart"

Jane Bryant Quinn

Syndicated Personal Finance Columnist and Author

Daymond John

Branding Visionary & Founder of FUBU; Investor on AB...

Ellie Krieger

Registered Dietitian, Author, Host of The Food Netwo...

Al Roker

Co-Host NBC Today Show Media Entrepreneur, Author

Janet Switzer

Best Selling Author, Entrepreneur and Small Business...

Bill Bryson

Bestselling Author, "A Walk in the Woods" and "The R...

Hoda Kotb

Correspondent, 'Dateline NBC' and Co-Anchor, 'The To...

Claire Diaz-Ortiz

Author, Speaker, Advisor to Startups & Social Enterp...

Lisa Nichols

Best Selling Author, Motivator, Coach, Teacher & The...

Chris Hogan

Chris Hogan is an All-American College football play...

Colin Beavan

Eco-Leader

Robert M. Gates

Secretary of Defense (2006 - 2011), Former Director ...

Elizabeth Strout

Pulitzer Prize-Winning Fiction Author; Known for "Ol...

Danielle Steel

American Novelist and Bestselling Author

Chris Bailey

Author of "The Productivity Project," Productivity S...

Lindsey Stirling

Violinist, Dancer, Performance Artist, and Composer

Charles Moore

Margaret Thatcher's Authorized Biographer

Kiera Cass

New York Times Bestselling Author of "The Selection"...

Michael Ian Black

MTV and Comedy Central Comedian; Actor, Writer and D...
More like Francisco