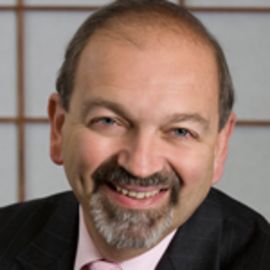 Frank Donatelli
Executive Vice President and Director of Federal Public Affairs for McGuireWoods Consulting; Conservative Activist
A long-time activist in conservative causes, Frank is Executive Vice President and Director of Federal Public Affairs for McGuireWoods Consulting. He also serves as counsel to McGuireWoods LLP. His previous appointments have included serving as an assistant to President Reagan for Political and Intergovernmental Affairs and as deputy assistant to the President for Public Liaison at the White House. He served on White House Chief of Staff James Baker's team that negotiated presidential debates in early 1984 and ran Baker's 1978 campaign for Attorney General of Texas. He also assisted Baker in the 2000 Florida recount on behalf of the Bush-Cheney team. Frank was a senior advisor to Bob Dole in 1996 and previously worked in the presidential campaigns of George Bush and Ronald Reagan.
Frank has appeared on numerous public affairs programs on MSNBC, Fox News and CNN, and is a noted writer whose articles have been printed in the Washington Post, the Washington Times and the New York Daily News. He also writes an online column for The Hill newspaper. Prior to joining McGuireWoods Consulting, he was a partner in the Washington office of Akin, Gump, Strauss, Hauer & Feld, LLP where his practice focused on legislative issues, including appropriations and general commerce matters.
Frank is also Chairman of the Reagan Ranch Board of Governors and serves as secretary and treasurer of the board of Young America's Foundation, which is dedicated to preserving President Reagan's Ranch in Santa Barbara, California as an historical property and as a vehicle to bring Reagan's beliefs and values to the next generation of Young Americans.
Videos
---
Related Speakers View all
---
Doug Giles

Conservative Columnist and Political Commentator

Steven Crowder

Fox News' Commentator, Social Media Expert, Comedian...

Ron Robinson

President of Young America's Foundation; Conservativ...

Marc Thiessen

Former Chief Speechwriter to George W. Bush; Politic...

Mike Adams

Conservative, Free Speech Advocate and Author

Jed Babbin

Military and foreign affairs analyst, former deputy ...

Buzz Patterson

Former Senior Military Aide to President Bill Clinto...

Humberto Fontova

Cuban-American author, blogger, political commentato...

Bay Buchanan

Political Analyst & Former US Treasurer

Jason Mattera

American writer, conservative activist, radio host a...

John Reitzell

Served as the Reagan Administration's Department Of ...

Phelim McAleer

Director and producer of documentaries "FrackNation,...

Ann McElhinney

Documentary filmmaker; director and producer of cont...

Earl Johnson

Author of "Stairwell to Heaven -- A 9-11 World Trade...

Manuel Miranda

Chairman of the Third Branch Conference, a coalition...

Kate Obenshain

Defender of conservative principles; Co-founder of J...

Dan Flynn

American conservative, author and former executive d...

Jesse Lee Peterson

President and founder of The Brotherhood Organizatio...

Joseph Phillips

Actor, author and conservative speaker

Anne Korin

Co-director of the Institute for the Analysis of Glo...
More like Frank