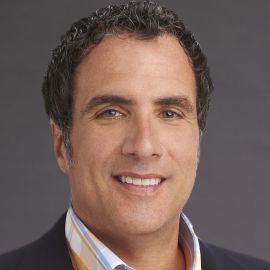 Fred Gaudelli
Producer, NBC's "Sunday Night Football"
Fred Gaudelli, Producer of Sunday Night Football, received the Emmy Award for Outstanding Live Sports Series in several years. Gaudelli, an 18-time Emmy Award winner, has also produced Super Bowls XLIII, XL, XXXVII and XLVI, at the time, the most-watched program in U.S. television history.
Prior to joining Sunday Night Football, Gaudelli spent five seasons as Producer of ABC's Monday Night Football, including producing Super Bowl XL in February 2006. With Gaudelli as Producer, Monday Night Football and the production of Super Bowl XXXVII was nominated for nine Emmy Awards, winning four, including Outstanding Live Sports Series in 2004 for MNF.
Gaudelli produced ESPN's Sunday Night Football game telecasts from 1990 through 2000. In that time, "Sunday Night Football" received a CableACE Award for Sports Events Coverage Series in 1990, 1991, 1992, 1993 and 1995, two gold medals (1990-91) at the International Film & TV Festival, and an Emmy Award for Best Live Series in 2000 and Technical Innovation in 1999.
Gaudelli introduced the critically acclaimed 1st & Ten technology, the electronically produced yellow line that appears to be painted across the field at the first down marker, the GoalPost Cam and the rotating clock/score box. In addition, he produced the first live sports telecast to use real-time polling data (via Enhanced TV) on all instant replay challenges. In 1997, Gaudelli oversaw ESPN's day-to-day coverage of Major League Baseball, which won the network's only CableACE Award for Outstanding Live Sports Series.
Named Senior Coordinating Producer at ESPN in November 1996, Gaudelli oversaw day-to-day administration of the cable network's National Football League telecasts, as well as the NFL Draft and X Games. He also served as Senior Producer of the ESPY Awards from 1998-2001. Gaudelli was named Producer of ESPN's NFL Draft coverage in 1990.
Upon joining ESPN's remote production department in March of 1983, Gaudelli worked as an Associate Producer on a variety of sports, including college football, basketball and baseball, the USFL, the U.S. Olympic Festival and the NFL Draft. In 1986, he produced the network's live Thursday night college football series. Additionally, while producing the 1988 College World Series, Gaudelli introduced the live technique of tracking the speed of pitches – a first on television. Prior to joining the remote production department, he worked in the network's administration department.
A native of Harrison, New York, Gaudelli earned a Bachelor of Arts degree in communications from Long Island University-C.W. Post in 1982.
Click Here to register and get pricing on booking Fred Gaudelli for your next event!
Get notified of new talks and events.
Follow
Related Speakers View all
---
Mel H. Abraham

He has a riveting presence, created by his absolute ...

Milt Abel

Milt Abel is a corporate-clean stand-up comedian tha...

Mike Abrashoff

Former Commander of USS Benfold and Author of "It's ...

J.J. Abrams

Director, Producer, Writer, Author; Known for His Wo...

Melvin Adams

Former Harlem Globetrotter with a Passion for Reachi...

Kirk Acevedo

Actor Best Known for His Roles on "Dexter," "Band of...

Jose Antonio Abreu

Founder of El Sistema, Which Helps Venezuelan Childr...

Carol Adelman

Carol Adelman is a senior fellow and director of Hud...

Newton Aduaka

Newton Aduaka's award-winning Ezra, told through the...

Janus Adams

Award-Winning Journalist

Jenoyne Adams

African-American Novelist.

Khandi Alexander

Khandi Alexander (born September 4, 1957) is an Amer...

Shaun Alexander

NFL Great

Laila Ali

Undefeated 4 Time World Champion Boxer 24-0 with 21 ...

Alan Alda

Actor, Writer, Science Advocate, and Director

Adewale Akinnuoye-Agbaje

Fashion Model & Actor Known for "Lost," "Oz" & "Suic...

Jane Alexander

Actress and Former Director of the National Endowmen...

Bruce Aitken

Bruce Aitken was born in Invercargill New Zealand wh...

Gary Aldrich

On Independence Day, 1996, former FBI Agent Gary Ald...

Marilyn Albert

Dr. Marilyn Albert received her PD degree in Physiol...
More like Fred