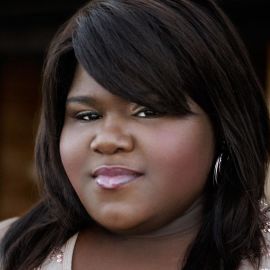 Actress Gabourey Sidibe won an Oscar nomination for her moving portrayal of an abused, 350-pound teenager in the 2009 film "Precious."
Gabourey Sidibe was born on May 6, 1983, in Brooklyn. Her father drove a cab and her mother taught special education. After her parents divorced, Sidibe lived with her mother. She pursued acting in New York while attending community college and working odd jobs.
Sidibe maintained her love of performance throughout her adolescence and appeared in bit parts in local theater. But Gabourey's big break came in 2007, when she landed an audition for the movie "Precious," directed by Lee Daniels. The film, about a 16-year-old, 350-pound girl who is abused by her parents, featured seasoned stars Mo'Nique, Mariah Carey and Lenny Kravitz in supporting roles. Sidibe, a relative unknown, was bouncing between several New York community colleges and working odd jobs when she found out that she had landed the part.
The film, which was revealed at Sundance, turned Sidibe into an overnight sensation. Since its release, she has been nominated for a Golden Globe and Academy Award for Best Actress. She also finished work on another film project, "Yelling to the Sky," which co-stars Zoe Kravitz.
Gabourey currently resides in New York City.
Videos
---
Books
---