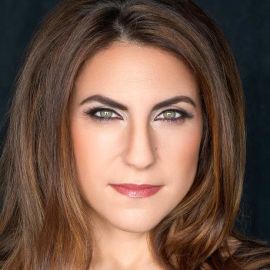 Gayle Tzemach Lemmon is the New York Times best-selling author of The Dressmaker of Khair Khana; Contributing Editor-At-Large for Newsweek Magazine and The Daily Beast, reporting on economic and development issues with a focus on women; and the deputy director of the Council on Foreign Relations' Women and Foreign Policy program.
Prior to joining the Council, Ms. Lemmon covered public policy and emerging markets for the global investment firm PIMCO, after working for nearly a decade as a journalist with the ABC News Political Unit and "This Week with George Stephanopoulos."
Gayle has reported on entrepreneurs in conflict and post-conflict regions for the Financial Times, New York Times, International Herald Tribune, the Daily Beast, and Christian Science Monitor, along with Ms. Magazine, Bloomberg, Politico and the HuffingtonPost.
She is also the author of the Newsweek March 2011 story "The Hillary Doctrine" and the September 2011 profile on U.N. Women's Michelle Bachelet. Gayle has appeared on NBC News, National Public Radio and PBS, and on cable outlets including MSNBC and FOX. 
Gayle's opening talk at TedxWomen in New York City, in December 2011, focused on why investing in women can make the difference for the global economy.
She has published papers on women and business for the World Bank, the International Finance Corporation, Harvard Business School, and the Center for International Private Enterprise.
Gayle earned a BA in journalism summa cum laude from the University of Missouri School of Journalism and an MBA from Harvard Business School, where she received the 2006 Dean's Award for her work on women's entrepreneurship. 
She speaks Spanish, German, and French and is conversant in Dari. 
A former Fulbright scholar and Robert Bosch Foundation fellow, she serves on the board of the International Center for Research on Women.
Videos
---
Speech Topics
---
Innovation is Everywhere (for Corporations)
When we think of Innovation, we think of Apple, Google, and other high-tech giants. But innovation exists in every place where a person has an idea and the passion to see it through. From first hand experience, Lemmon demonstrates how brave people get things done, how they build a business, how they involve a community, how they build a network of trust -- basically, everything that every Harvard business case study extolls. The only difference is that Lemmon's astonishing examples do it while battling oppression, and worse, in war-torn regions like Afghanistan.
Resilience: Unsung Heroes of Emerging Markets
Women are the unsung heroes of emerging markets--the great hope for the social, economic, and political future of third world countries. While women in conflict zones and the developing world are often viewed as victims, and are afforded few of the same rights and opportunities as men, there is a new wave of female business owners setting out to change this fact--and the world. In this optimistic and pragmatic talk, based on her deep work in the financial field, and her reporting from overseas, Gayle Tzemach Lemmon shows us how a new generation of women are stepping out from the shadows. They are the new breadwinners, the ingenious entrepreneurs, and even the brave political leaders who will boldly lead their country in the uncertain years ahead. The implications of this movement, Lemmon shows us, are enormous for all stake holders, from corporations to policy makers. What can we, in the West, learn from this movement, and how can we help promote this positive growth?
Related Speakers View all
---
Dr. Scilla Elworthy

Founder of the Oxford Research Group

Katie Couric

Award-winning Journalist, Best-selling Author, & Co-...

Sheryl Sandberg

COO of Facebook

Jacqueline Novogratz

Founder & CEO, Acumen Fund

Bunker Roy

Founder of Barefoot College

Dan Ariely

Behavioral Economist, Professor at Duke University, ...

Shirin Neshat

Iranian Visual Artist; Focuses on Social, Cultural a...

Jeffrey Kluger

Journalist; Editor and Writer at TIME MAGAZINE. Auth...

Julian Baggini

Julian Baggini is the author of several books about ...

Tavi Gevinson

Creator of Fashion Blog Style Rookie and Rookie Maga...

Anne-Marie Slaughter

CEO New America Foundation; Foreign Policy Expert; F...

Ellen Galinsky

Leading Authority on Work-Family Issues

Parag Khanna

The World's Leading Geo-Strategist; Author of Second...

Sir Richard Branson

Founder of Virgin Group

Janine di Giovanni

Author, Award-Winning Foreign & War Correspondent; P...

Joyce Maynard

New York Times Best-Selling Author, Journalist, and ...

Anna Holmes

Founder and Editor of Online Women's Magazine, Jezeb...

Hillary Clinton

United States Secretary of State, Obama Administrati...

Marissa Mayer

President and CEO of Yahoo

Tiffany Shlain

Filmmaker & Founder of the Webby Awards
More like Gayle