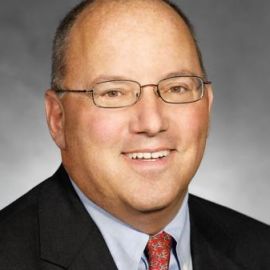 George Bradt
Executive Onboarding & Transition Acceleration Expert; Author of "New Leader's 100 Day Action Plan" and "First Time Leader"
According to George Bradt, we're all new leaders all the time, and our imperative to deliver better results faster has never been more important.
The founding director of executive onboarding firm PrimeGenesis, Bradt leverages decades of senior line management and consulting experiences – including his work as chief executive of J.D. Power's Power Information Network and in general management, marketing and sales at Coca-Cola, Procter & Gamble and Unilever – to help leaders accelerate transitions and thrive in new roles. Since the firm's launch in 2002, it continues to reduce new leader failure rates fourfold (from 40 percent to 10 percent) through strategic tools and perspectives proven to jump-start key strategic, operational and organizational processes in the first 100 days.
A frequent speaker on transformational leadership and onboarding themes, Bradt is also a trusted resource for media, and is frequently quoted in and contributes articles to Bloomberg Businessweek, The Economist, Financial Times, New York Times, Wall Street Journal and the Washington Post, among others. His weekly Forbes.com column, "The New Leader's Playbook," is dedicated to worthy examples of leadership done well, and has featured interviews with well known executives such as A&P's Sam Martin, Mastercard's Ajay Banga and the Red Cross' Charley Shimanski.
Bradt is the author of several highly regarded books published by Wiley, including three editions of "The New Leader's 100-Day Action Plan" (2011, 2009, 2006), "Onboarding" (2009) and the "Total Onboarding Program" (2010). In his latest book, "The First-Time Leader" (2014), Bradt translates his expertise and proven planning tools for professionals taking on their first leadership positions.
A principal of CEO Connection, Bradt is a graduate of Harvard University and holds an MBA from the University of Pennsylvania's Wharton School. A man of many talents and passions, he also wrote two musicals, "Twitter Pi" and "The Man with the Glass Heart," which was performed by a local theatre group in his hometown of Stamford, Conn.
Related Speakers View all
---
Dov Baron

Host and Executive Producer at Full Monty Leadership...

Mark M. Ford (Michael Masterson)

Author, Entrepreneur, Publisher, Investor, Consultant

Liz Ryan

CEO and Founder, Human Workplace

Matt Sitter

Project Manager at McChrystal Group

Daren Martin PhD

International Speaker Specialized in Speaking To Gro...

Fernando Valenzuela

President Latin America – Cengage / National Geograp...

Horacio Rozanski

President and COO, Booz Allen Hamilton

Carson Tate

Author of WORK SIMPLY: Embracing the Power of Your P...

Edward Barlow

Management/Consulting Expert

Ken Blanchard

Chief Spiritual Officer at The Ken Blanchard Compani...

Apollo Robbins

Sleight-of-Hand Artist and Self-Described Gentleman ...

Douglas Kolker

Consultant at Sandler Training

Dennis Snow

Customer Service Expert, Formerly with the Disney In...

Lolly Daskal

President & Founder of Lead from Within; Author of "...

Brent Adamson

Managing Director of Executive Advisory Services for...

Ryan Levesque

Marketing Expert, Business Coach and #1 Best-Selling...

Jennifer V. Miller

Founder of People Equation Press

Joe Echevarria

Former Chief Executive Officer, Deloitte

Ann Christensen

Disruptive Innovation Expert and President of the Cl...

SJ Murray

EMMY®-nominated writer, producer, story designer, gr...
More like George