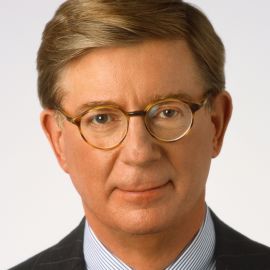 George F. Will is today's most widely read columnist. His newspaper column has been syndicated by The Washington Post since 1974. Today it appears twice weekly in approximately 475 newspapers in the United States and in Europe. In 1976, he became a regular contributing editor of Newsweek magazine, for which he provided a bimonthly essay until 2011.
In 1977, he won a Pulitzer Prize for commentary for his newspaper columns. Altogether eight collections of Will's Newsweek and Washington Post columns have been published, the most recent being "One Man's America". In 1990, Will published "Men At Work: The Craft of Baseball", which topped The New York Times best-seller list for two months and was most recently reissued on April 13, 2010 as a 20th Anniversary special edition with a new introduction (paperback). In 1998, Scribner published Bunts: Curt Flood, Camden Yards, Pete Rose and Other Reflections on Baseball, a best-selling collection of new and previously published writings by Will on baseball. His new book, A Nice Little Place on the North Side: Wrigley Field at One Hundred, was released March 25, 2014. Will was a member of Major League Baseball's Blue Ribbon Panel, examining baseball economics.
For 32 years, beginning as a founding member in 1981, he was a panelist on ABC television's This Week with George Stephanopoulos. In 2013, he became a contributor to FOX News' daytime and primetime programming. Will was born in Champaign, Illinois, educated at Trinity College in Hartford, Connecticut, Oxford University and Princeton University, where he earned his Ph.D. He has taught political philosophy at Michigan State University, the University of Toronto and Harvard University. Will served as a staff member in the United States Senate from 1970 to 1972. From 1973 through 1976, he was the Washington editor of National Review magazine. Today, Will lives and works in Washington.
Speech Topics
---
The Political Argument Today
America's foremost political commentator and columnist George F. Will presents penetrating and incisive commentary on the Washington political scene, offering a glimpse into what the future holds for public affairs, public policy and American society.
Related Speakers View all
---
Ben Stein

Political Economist; Author and Actor; Cult Icon

Charles Krauthammer

Pulitzer Prize-Winning Columnist & Political Comment...

Joe Scarborough

Co-Host of MSNBC's 'Morning Joe' and Former U.S. Con...

Laura Ingraham

Political Commentator, Radio Show Host & Journalist

Dana Perino

Political Commentator and Co-Host of Fox's "The Five...

John Stossel

Emmy-Award Winning Journalist & "20/20" Anchor and C...

Linda Chavez

Conservative Political Commentator

Morton Kondracke

Contributing Editor, Roll Call and Commentator, FOX ...

Parag Khanna

The World's Leading Geo-Strategist; Author of Second...

Fred Barnes

Executive Editor, The Weekly Standard and FOX News C...

Tucker Carlson

Co-host, FOX and Friends Weekend and Editor-in-Chief...

Bret Baier

FOX News Chief Political Anchor and Host, Special Re...

Arianna Huffington

Former President & Editor-in-Chief of The Huffington...

William Kristol

Founder and Editor, The Weekly Standard and Politica...

Mike Huckabee

Politician; Former Governor of Arkansas

Brit Hume

Anchor of "Special Report with Brit Hume"

Dave Barry

The Best-selling Humorist of Our Time

Ian Bremmer

President and Founder of Eurasia Group

Sean Hannity

"The Sean Hannity Show" on iHeartRadio, Fox News Cha...

Oliver North

Combat-Decorated Marine, Best-Selling Author, Former...
More like George